O
ne of our values ​​is hospitality. This is why we care so much about the planet that welcomes us. For this reason we have always been committed to preserving the environment and promoting sustainability. Naples has always had an inseparable bond with Nature, and we, sons of this land, embrace this green vision, implementing practices and initiatives that reduce the environmental impact and promote a sustainable lifestyle.
From the outset, the Santa Chiara Boutique Hotel has taken various measures to reduce energy consumption and emissions. The common areas and the bedrooms are equipped with low energy consumption lighting systems, while the appliances and air conditioning systems have been selected to guarantee optimal energy efficiency.
Water conservation is another priority for us. Our bathrooms feature low-flow showers and taps, ensuring a luxurious experience while minimizing water consumption. In addition, we have implemented a linen reuse program, allowing guests to choose when to change them, thus reducing the water and energy consumption associated with frequent washing.
Waste recycling and separate collection are an integral part of Santa Chiara's sustainable philosophy. The hotel promotes the use of recyclable and biodegradable materials, reducing the use of disposable plastic and favoring the use of eco-friendly products. Additionally, the hotel implements a strict waste separation system, encouraging guests and employees to actively participate in recycling.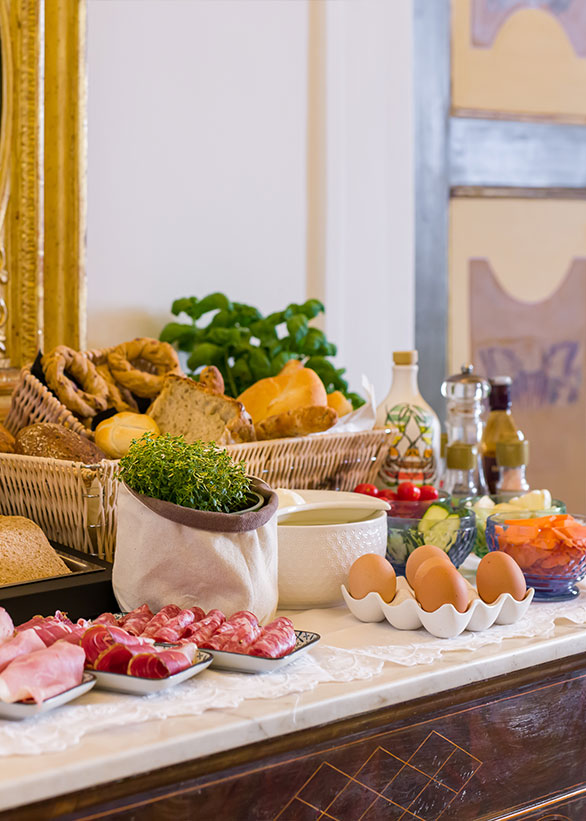 Our commitment to sustainability also extends to the food we serve. Our in-house breakfast proudly uses local and organic ingredients whenever possible, supporting local farmers and reducing the carbon footprint associated with long-distance transportation. We also offer vegetarian, vegan and kosher options, catering for different dietary preferences and promoting a more sustainable food culture.
But alone we can do very little. For this reason we ask our guests to follow our choices, in total respect for the environment and for future generations.
By choosing our hotel, you are supporting our continued efforts to create a more sustainable future. We invite you to join us in the process of change by practicing responsible resource consumption during your stay. Together we can make a difference and leave a positive impact on the environment.
Do you need information or do you have advice to give us to make our proposal even greener? Contact us, we are at your complete disposal.