Santa Chiara Suites
The Suites at Santa Chiara Boutique Hotel, Historic Center of Naples
Uniqueness in the heart of Naples
Let yourself be welcomed by the elegant style of the design and the comfort of our suites. Relax in the spacious rooms, with every type of service at your support to make your stay unique and pleasant.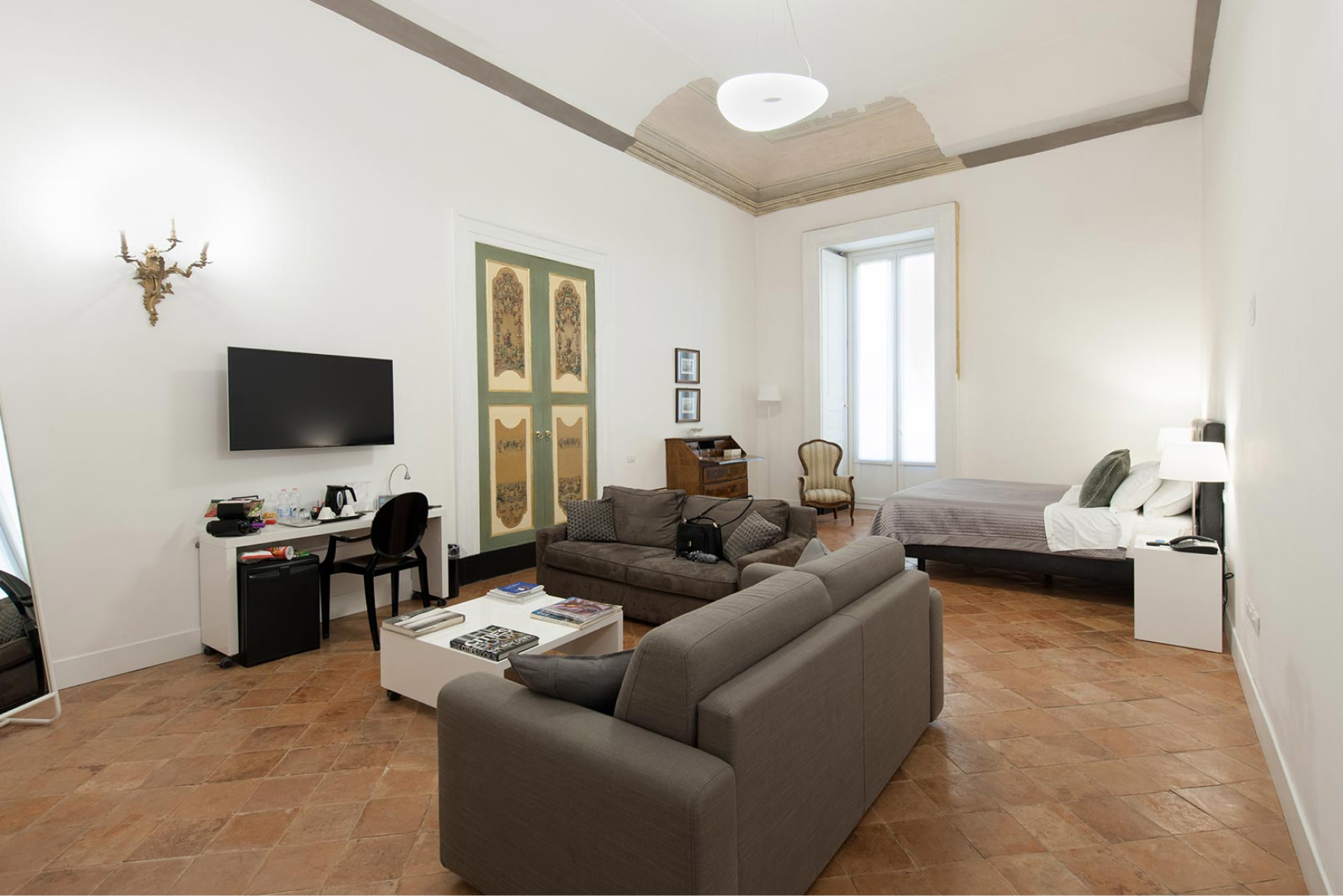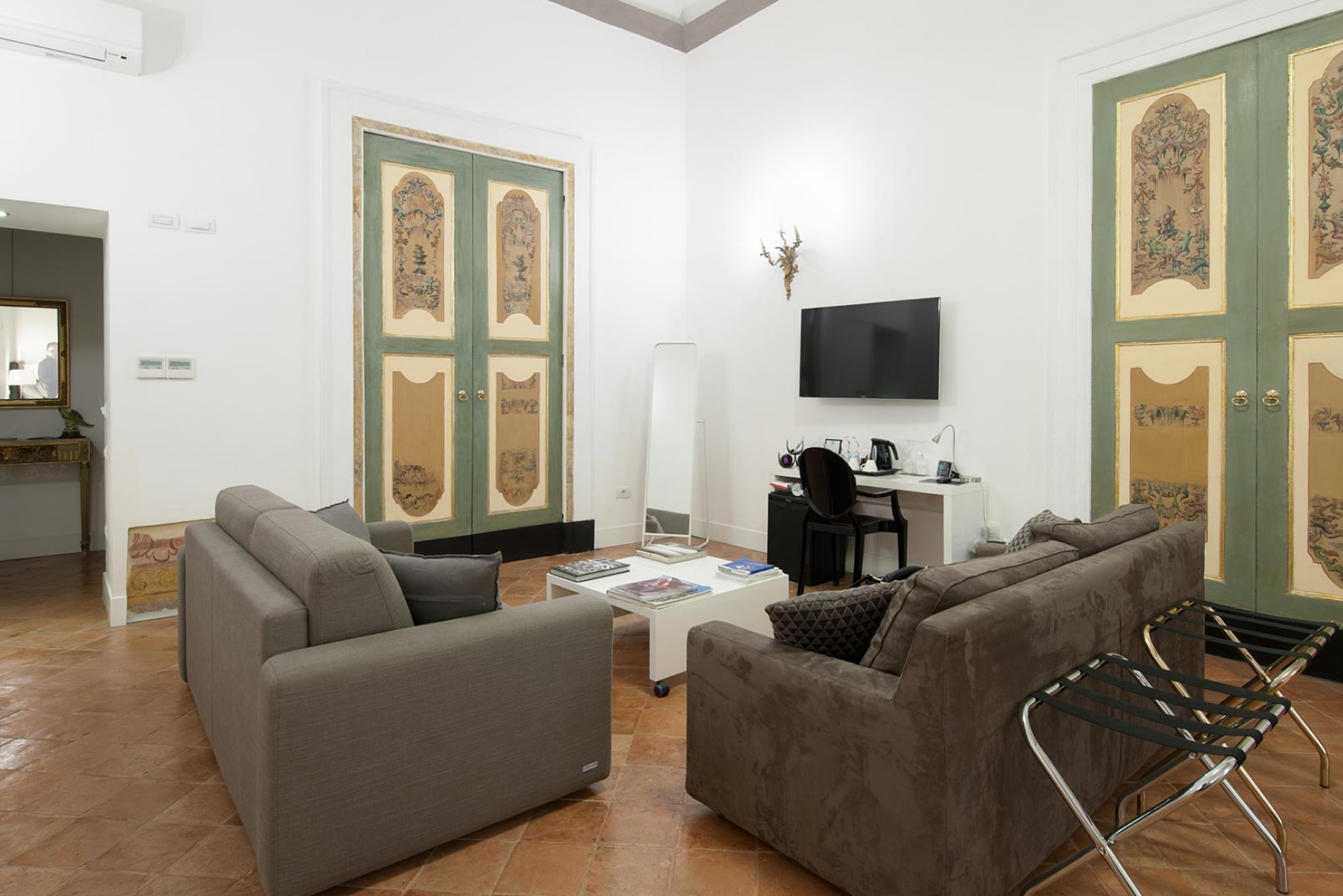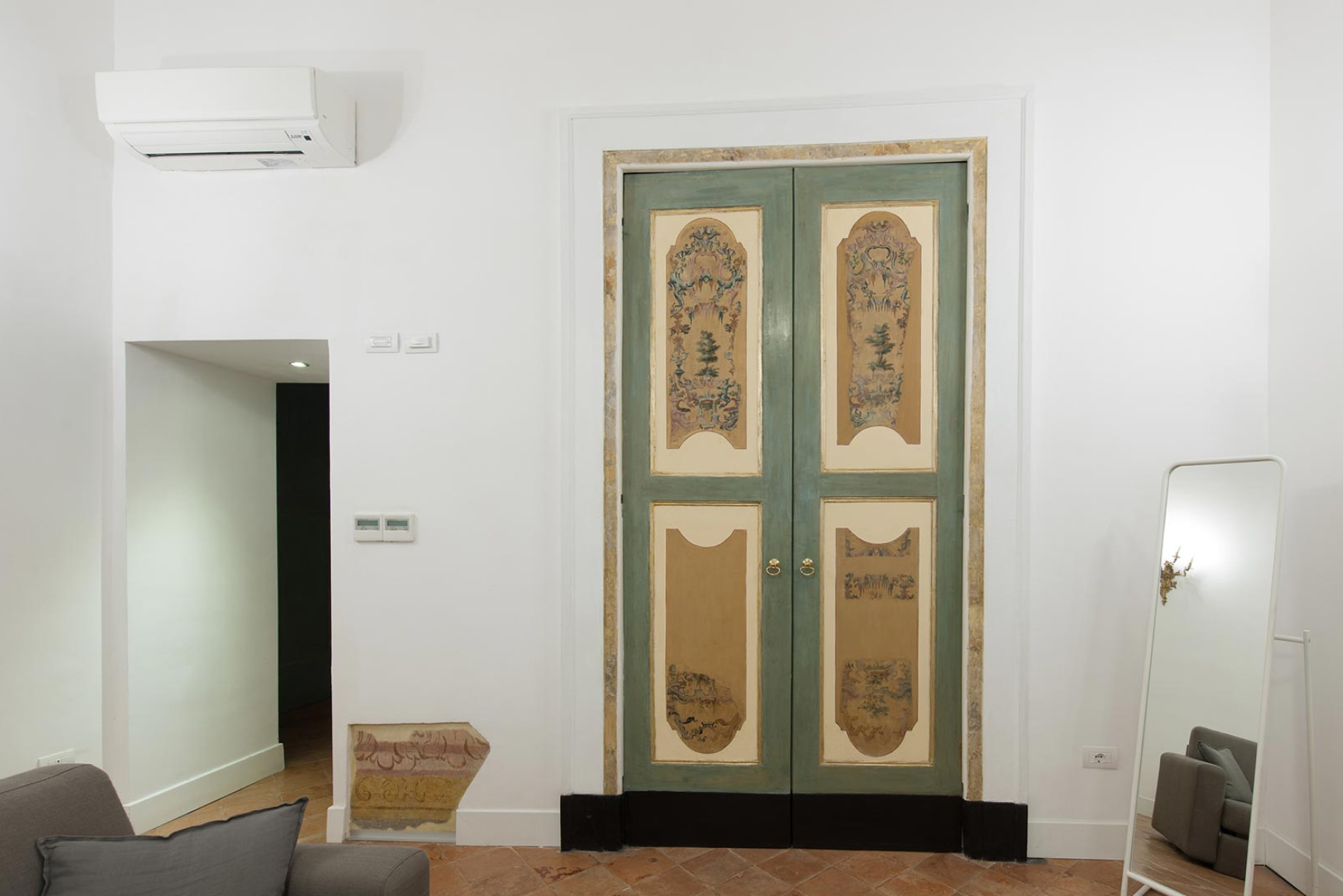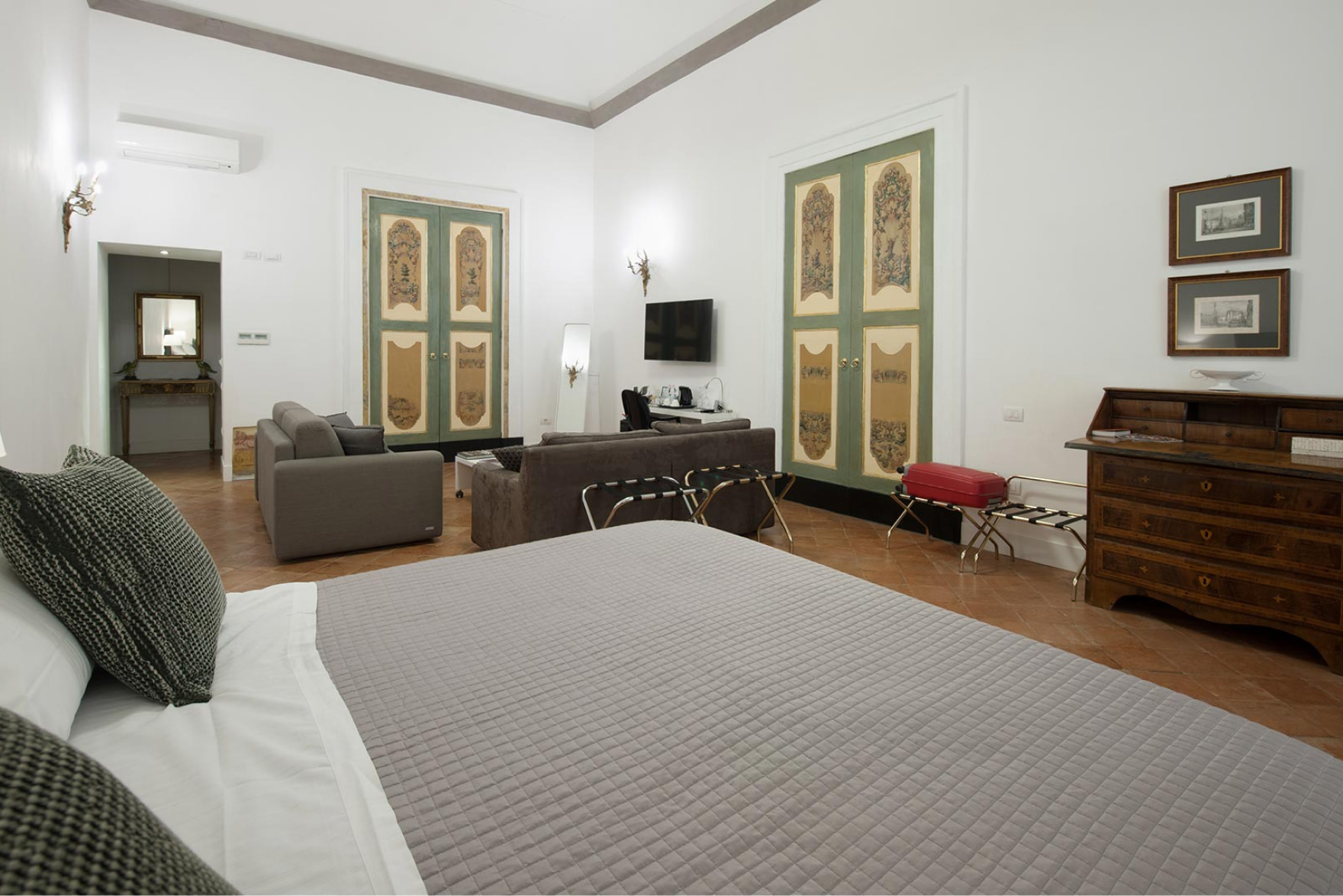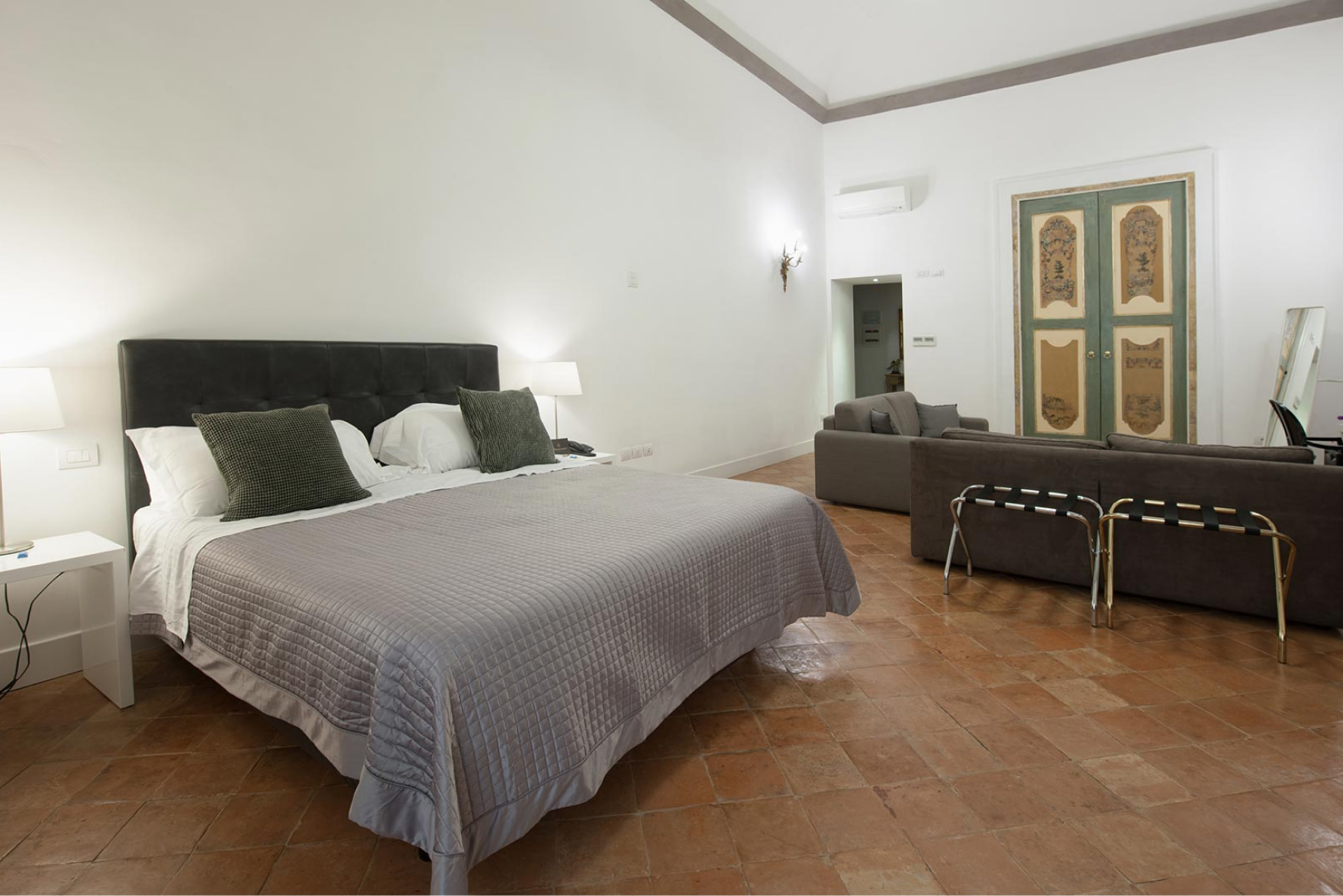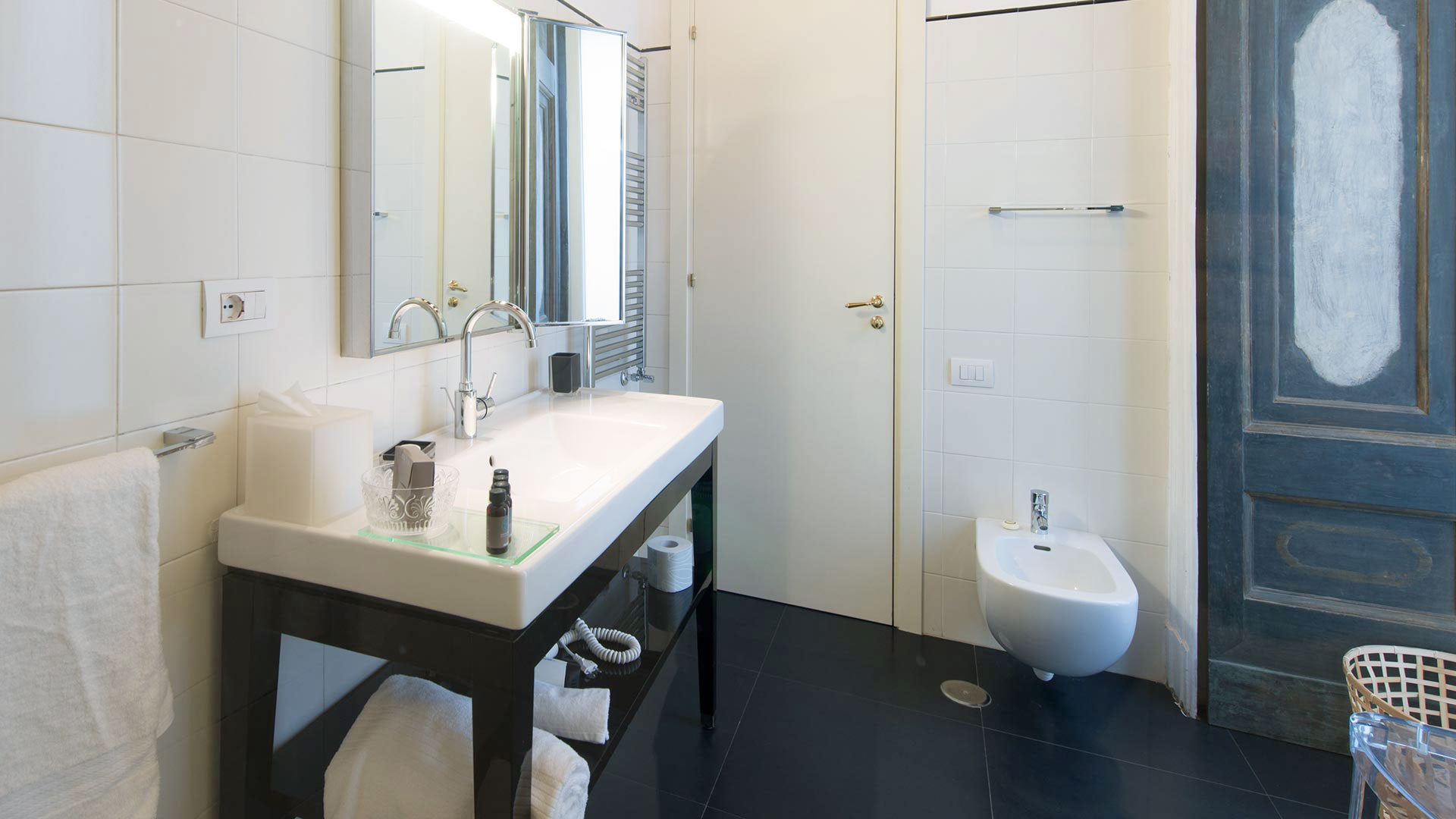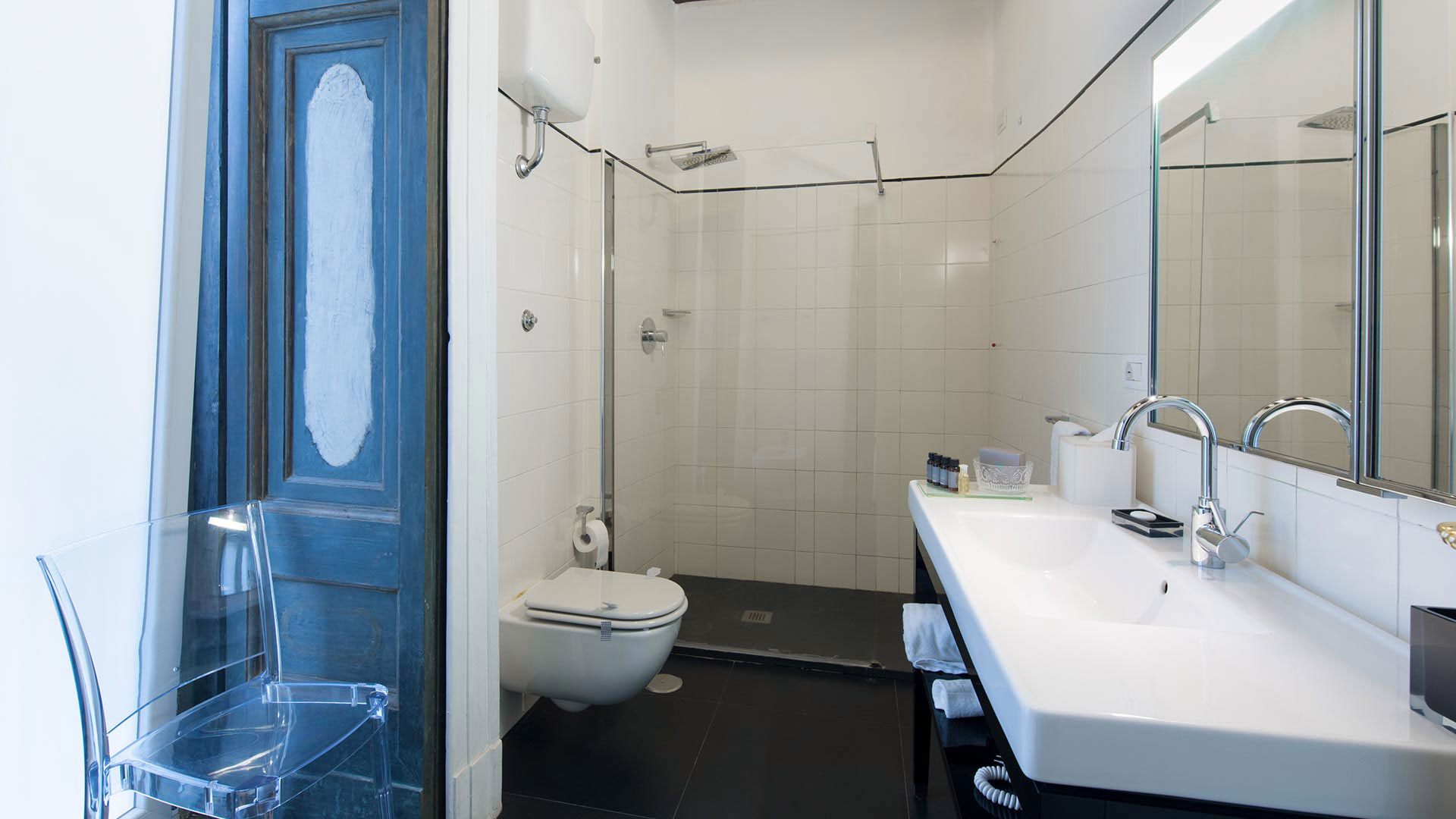 Representative room of the building, this suite welcomes every guest with its seventeenth-century terracotta floor restored to its former glory. The Elite, with a nineteenth-century ceiling, is the ideal location for guests who want to experience the most exclusive of city trips. The modern design and comfort, the classic Neapolitan antiques, a large relaxation area, accompany the traveler in a one-of-a-kind stay. Enjoy life in the historic center from the romantic balcony overlooking the Decumanus that cuts through the city.
51 sqm
4 guests
Balcony facing Spaccanapoli
1 king-size bed with topper
1 sofa bed

Soundproof windows
48-inch TV
Desk
Telephone
Walk-in shower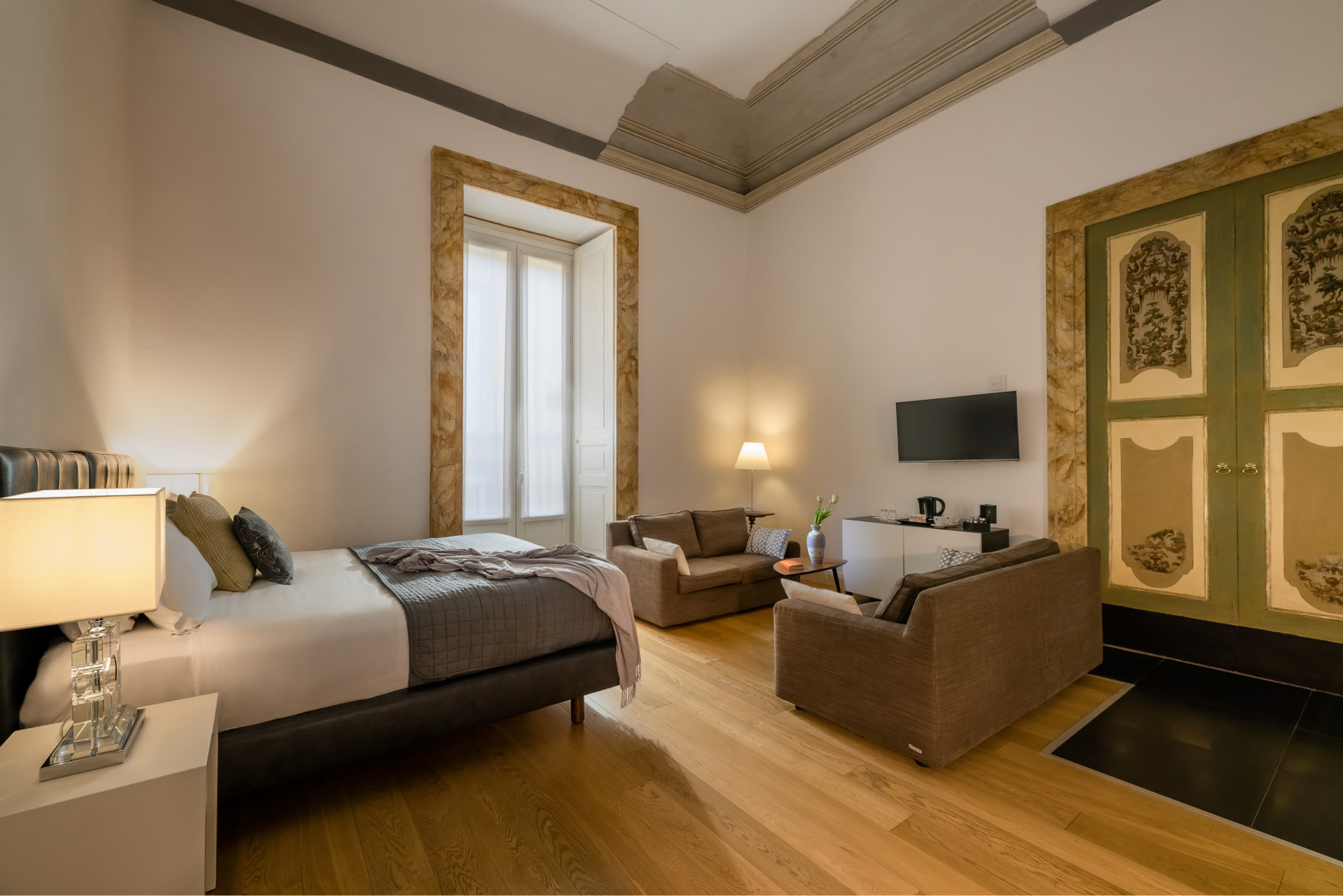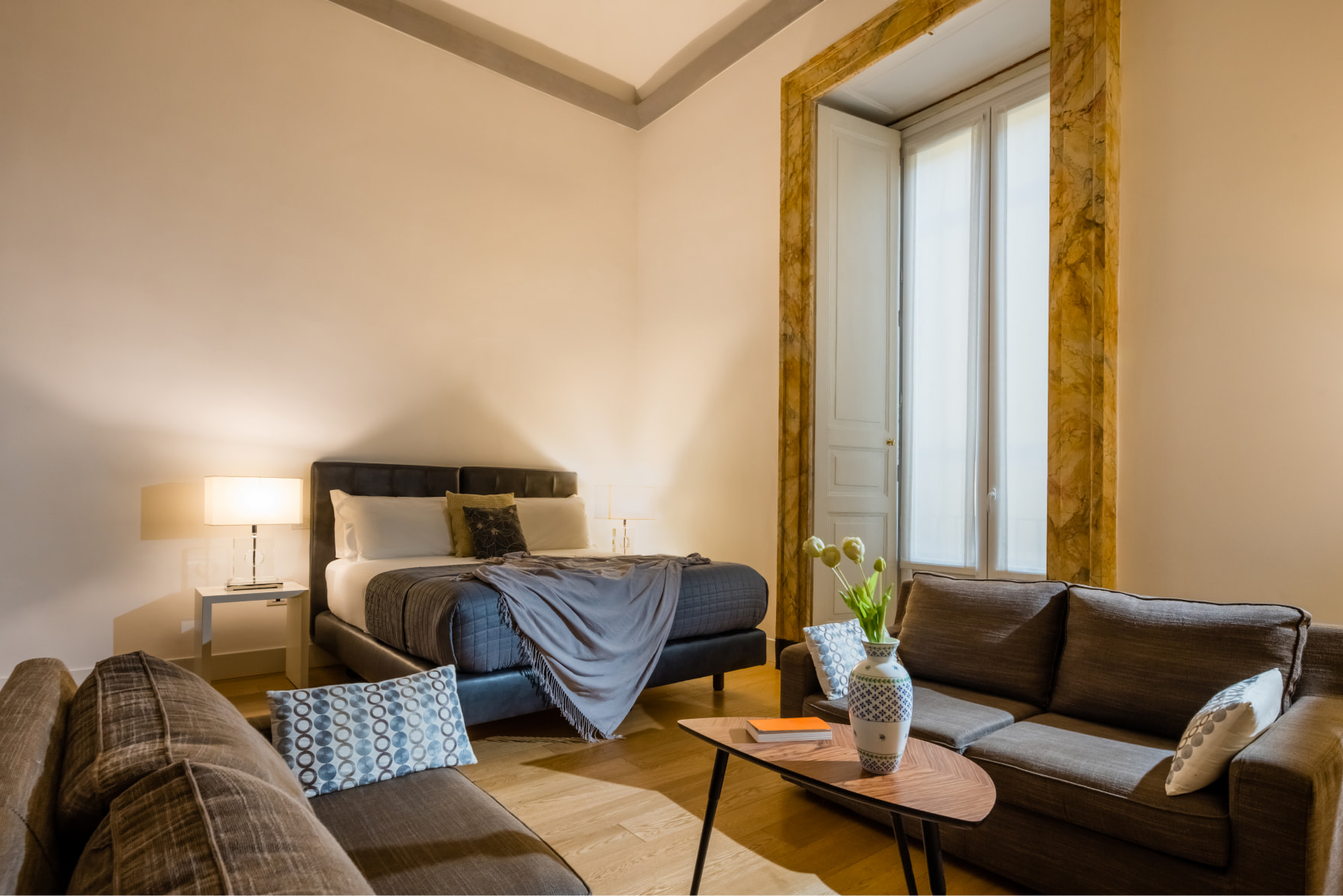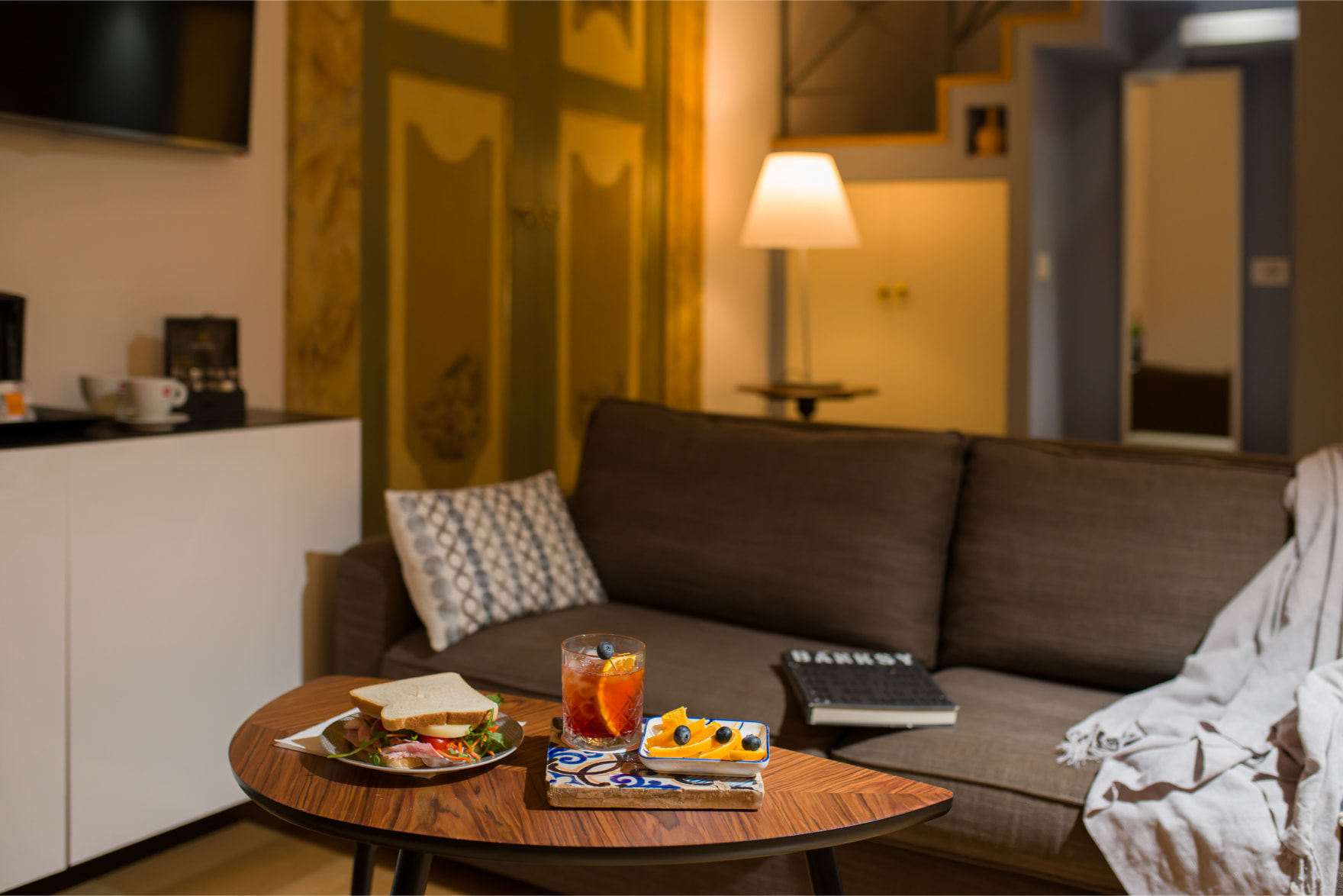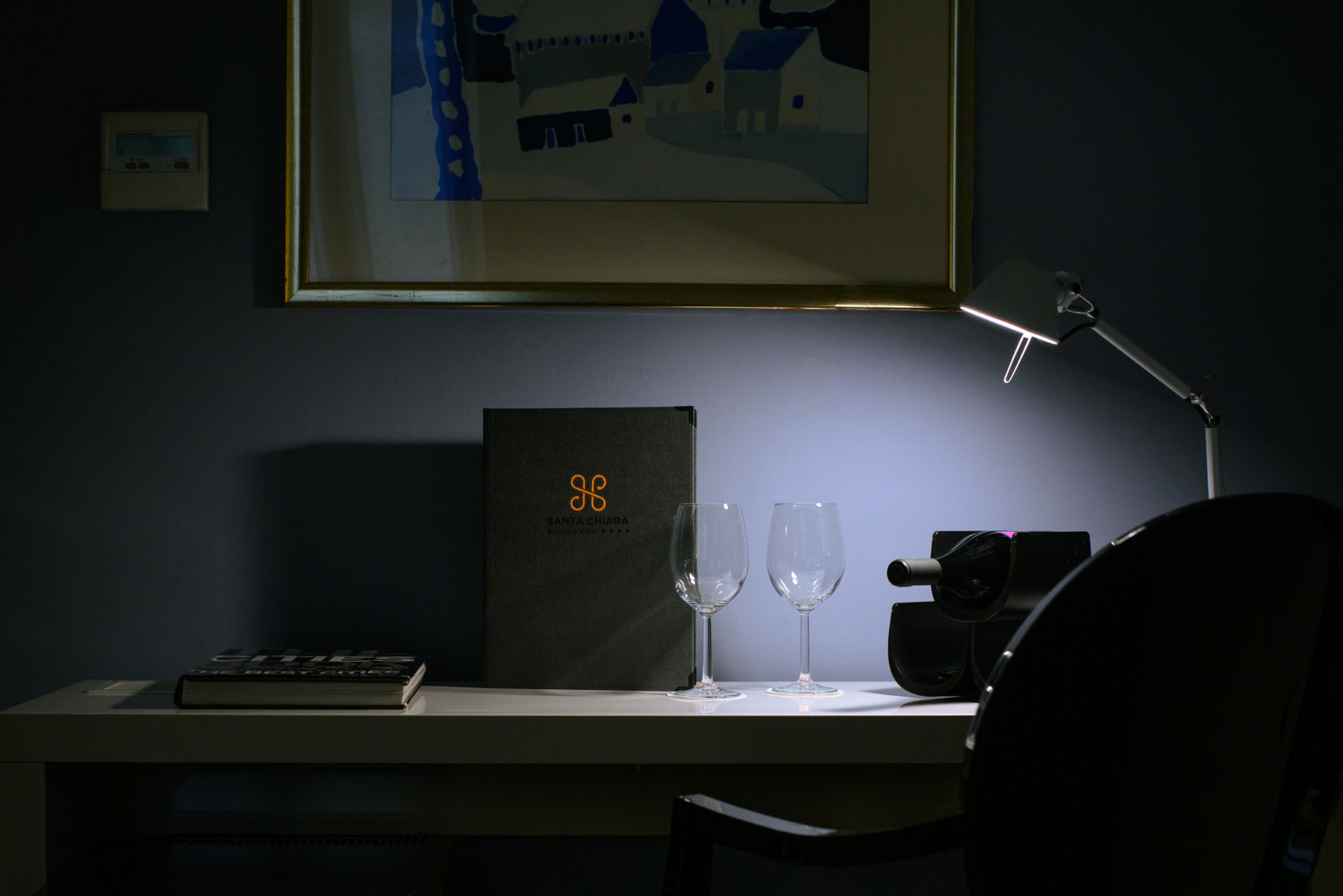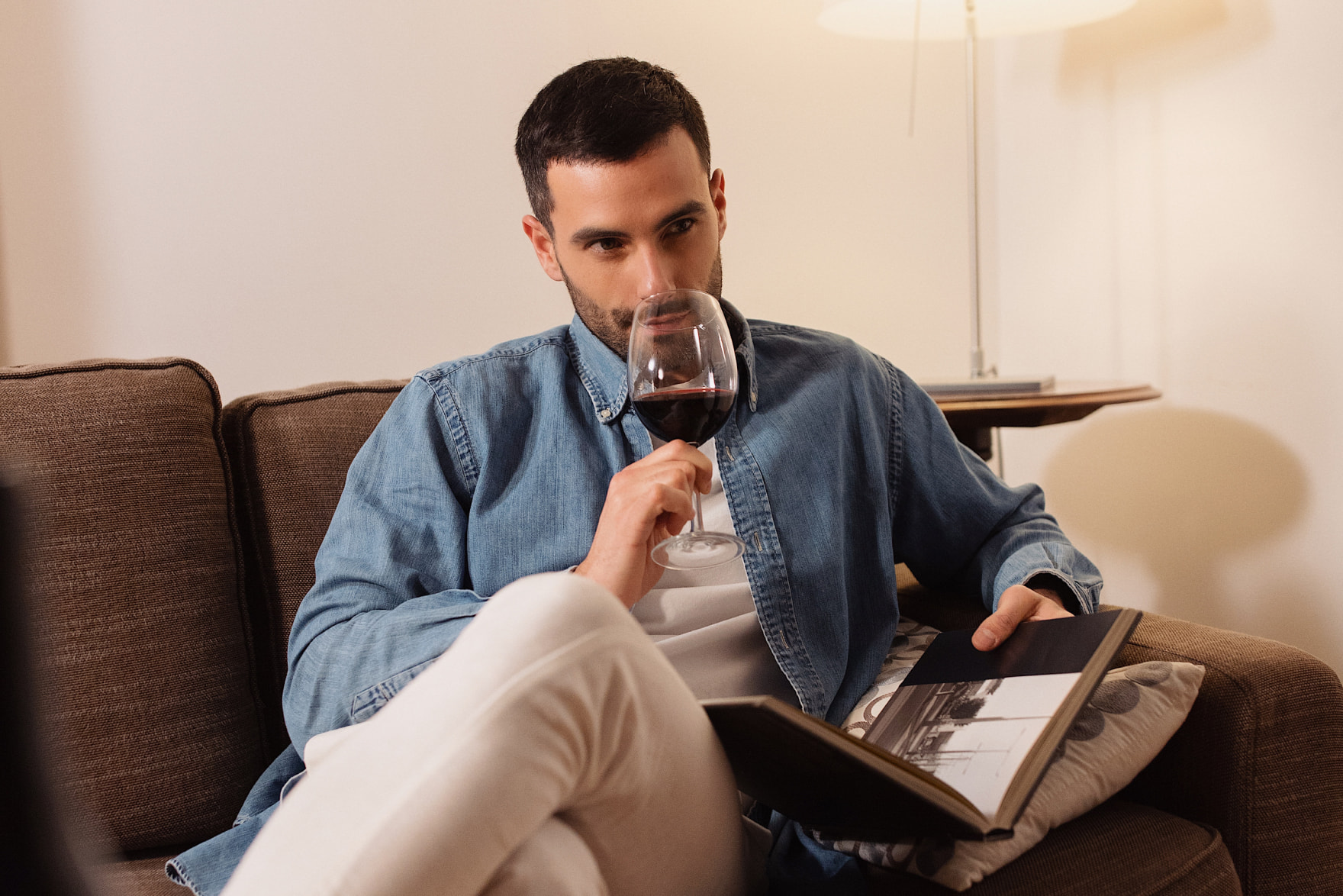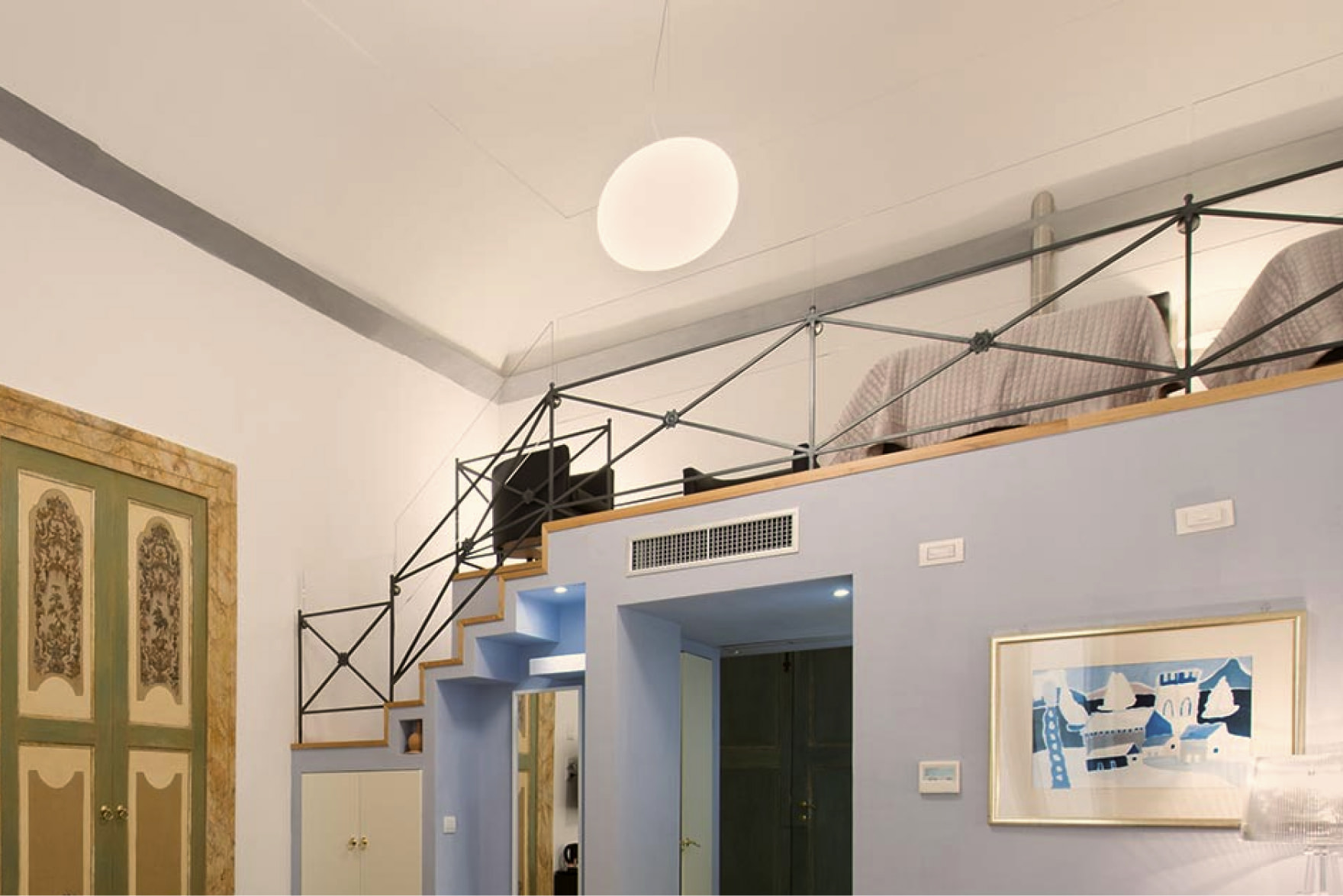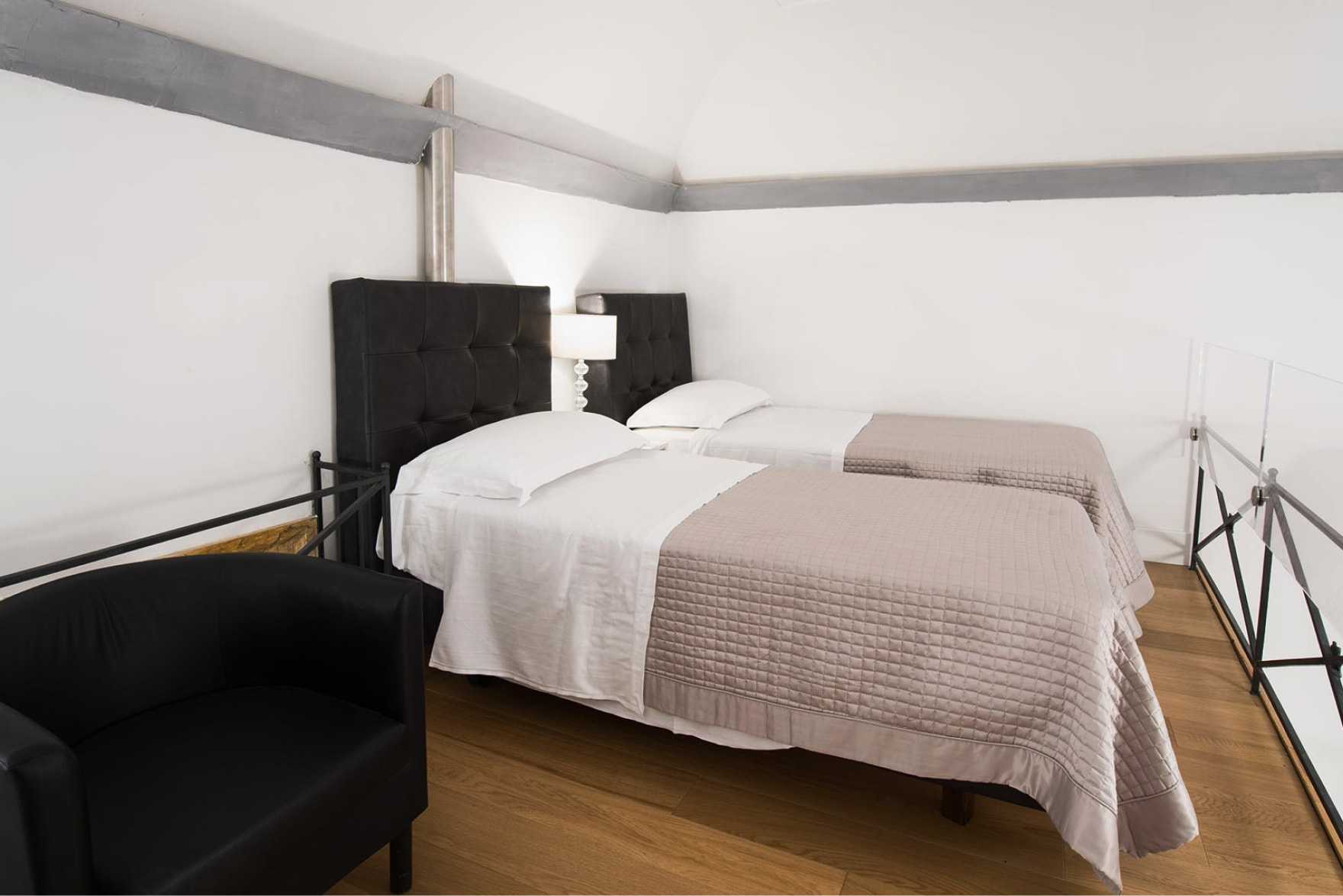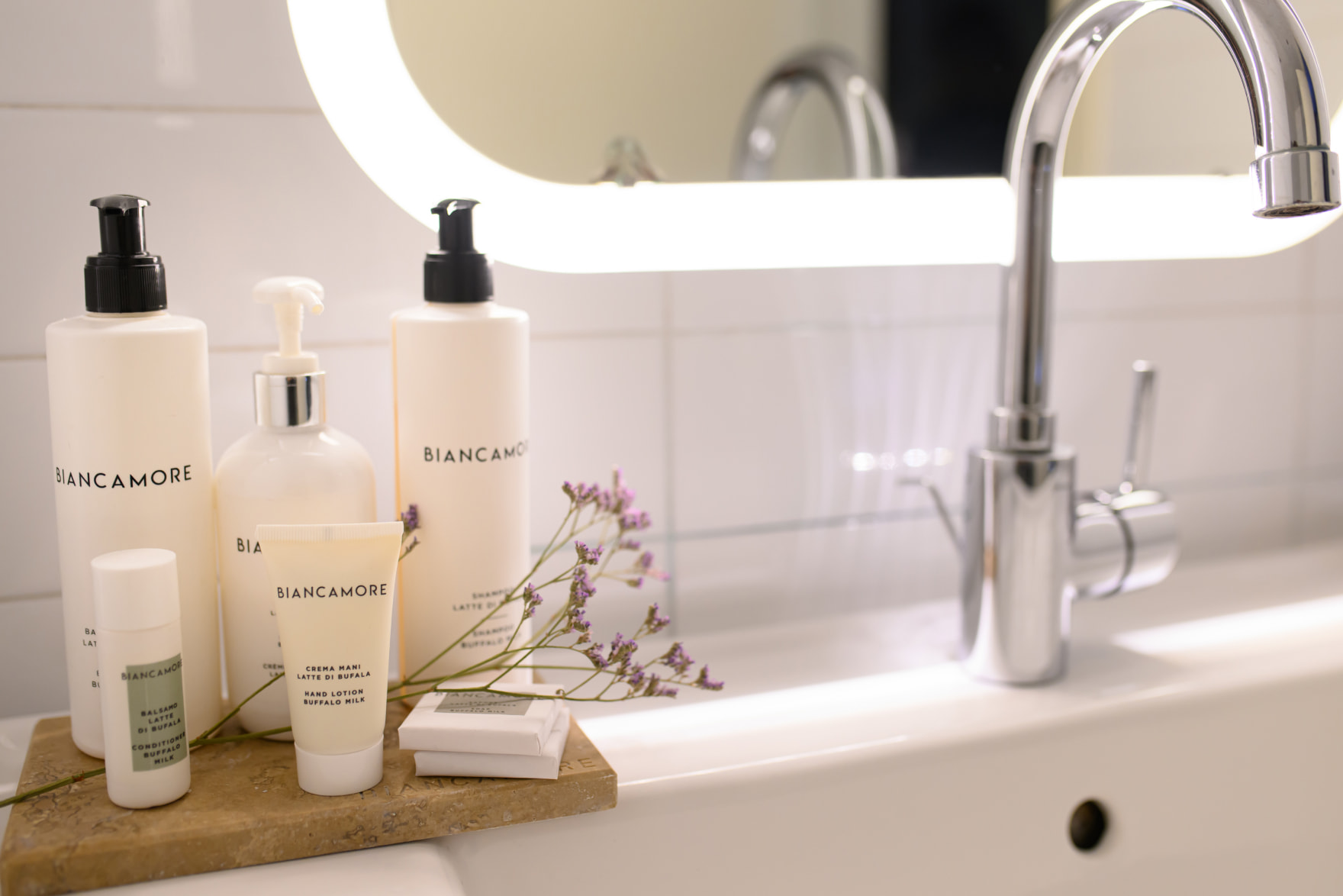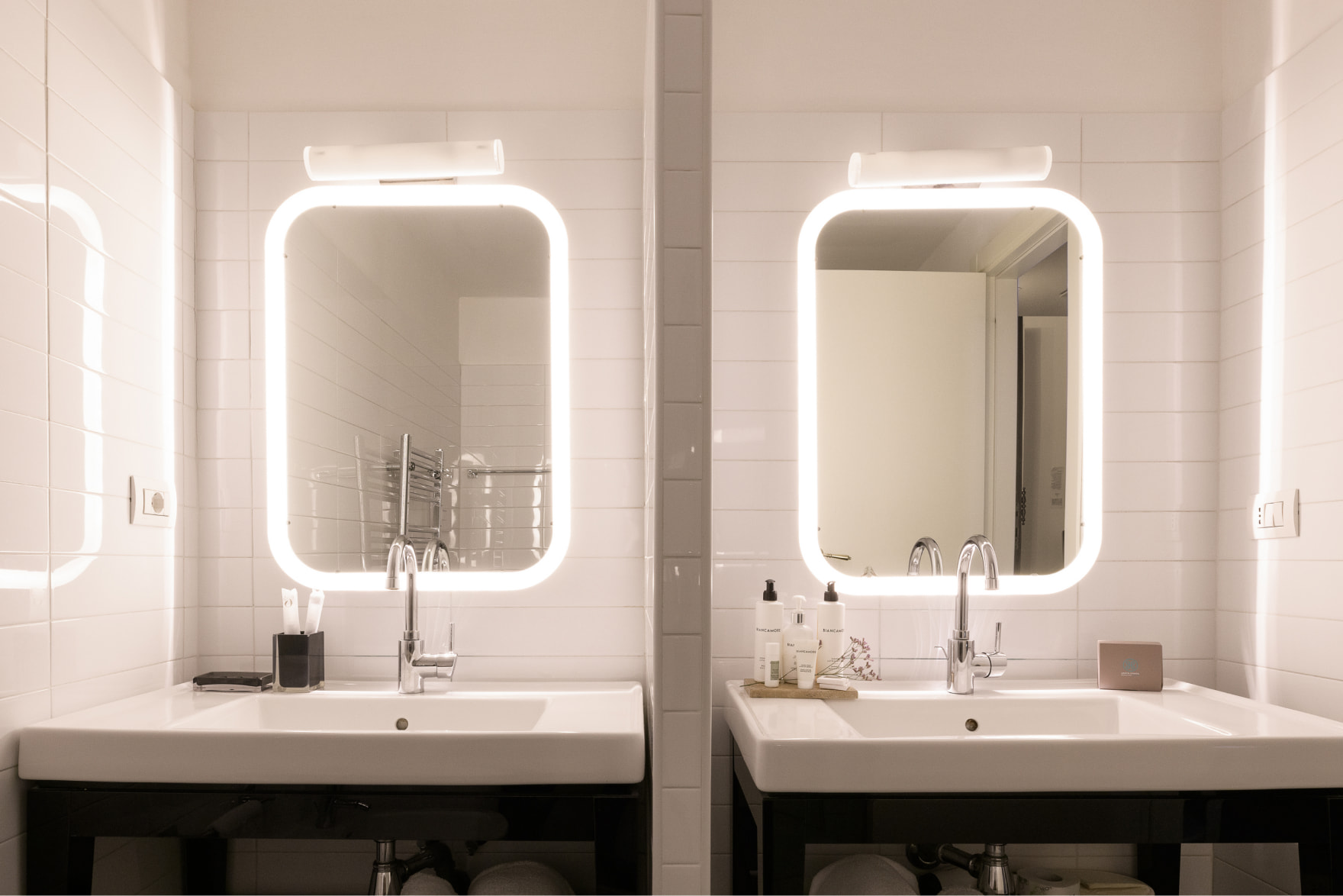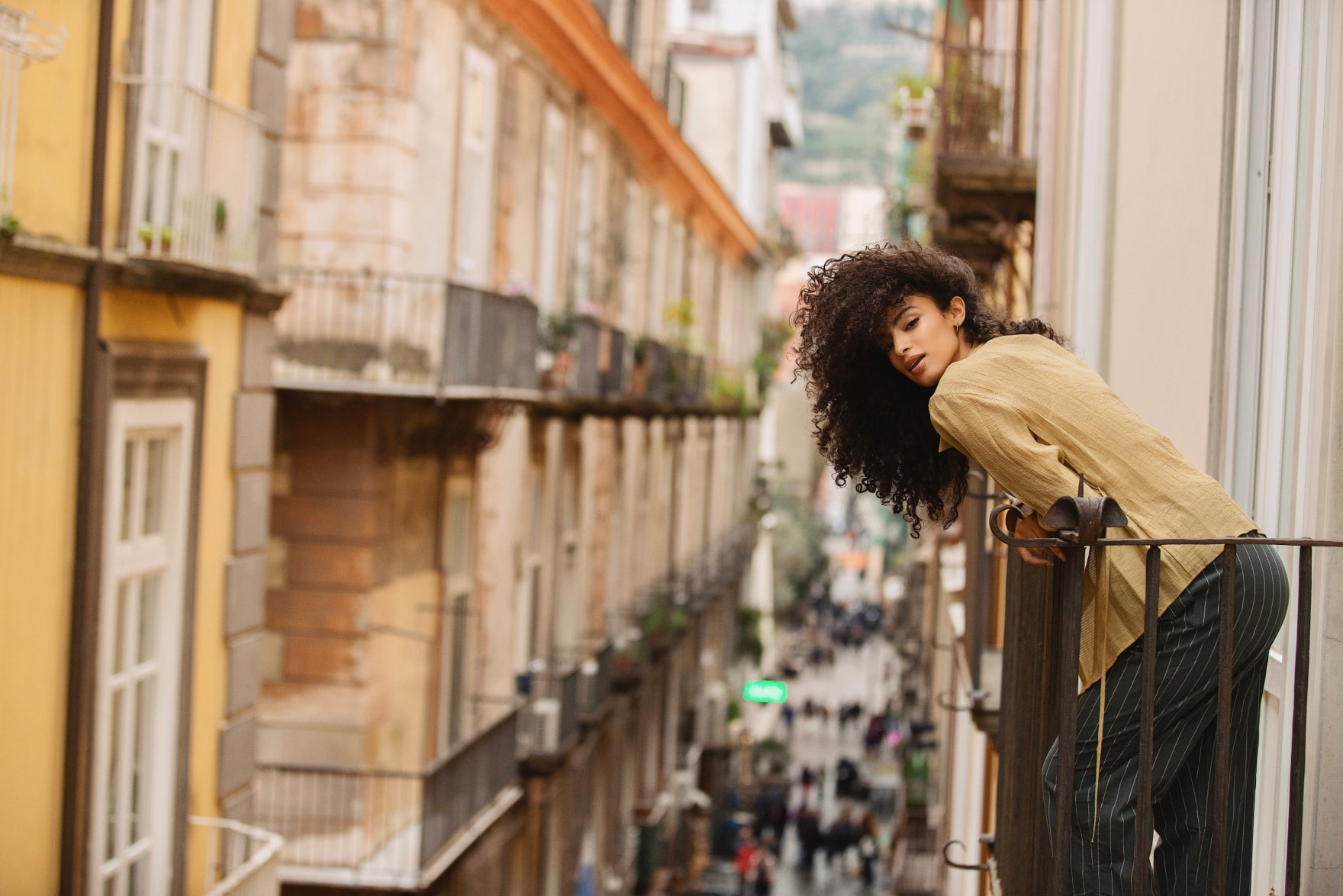 Spacious and bright, thanks to the high ceilings of the time that embellish the modern design with contemporary and essential elegance, it is able to accommodate a comfortable mezzanine with two single beds, and a sofa area with double sofa able to host a business meeting or watch a match in company.
51 sqm
6 guests
Mezzanine
Balcony facing spaccanapoli
2 twin beds (or king-size with topper)
2 twin beds

1 sofa bed
Sofa
2 wardrobes
Soundproof windows
Bathroom with double sink
42-inch TV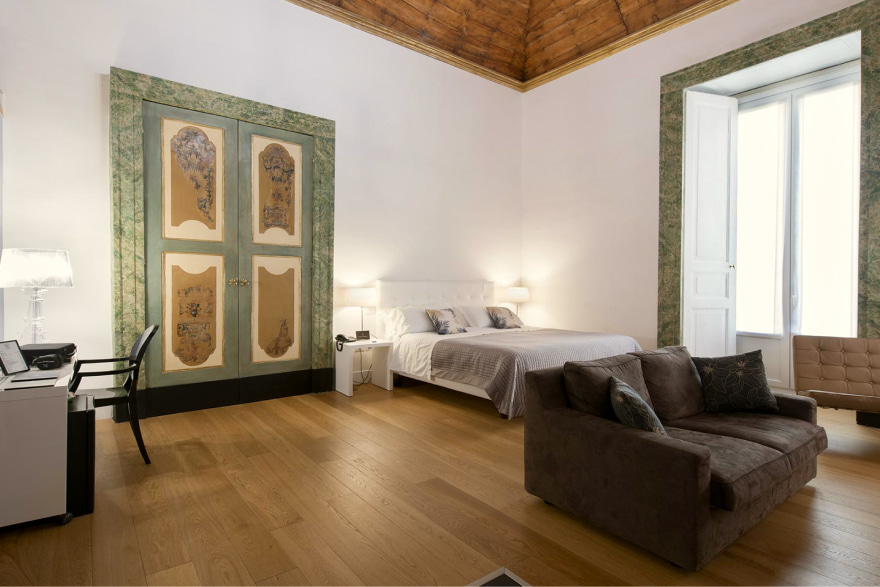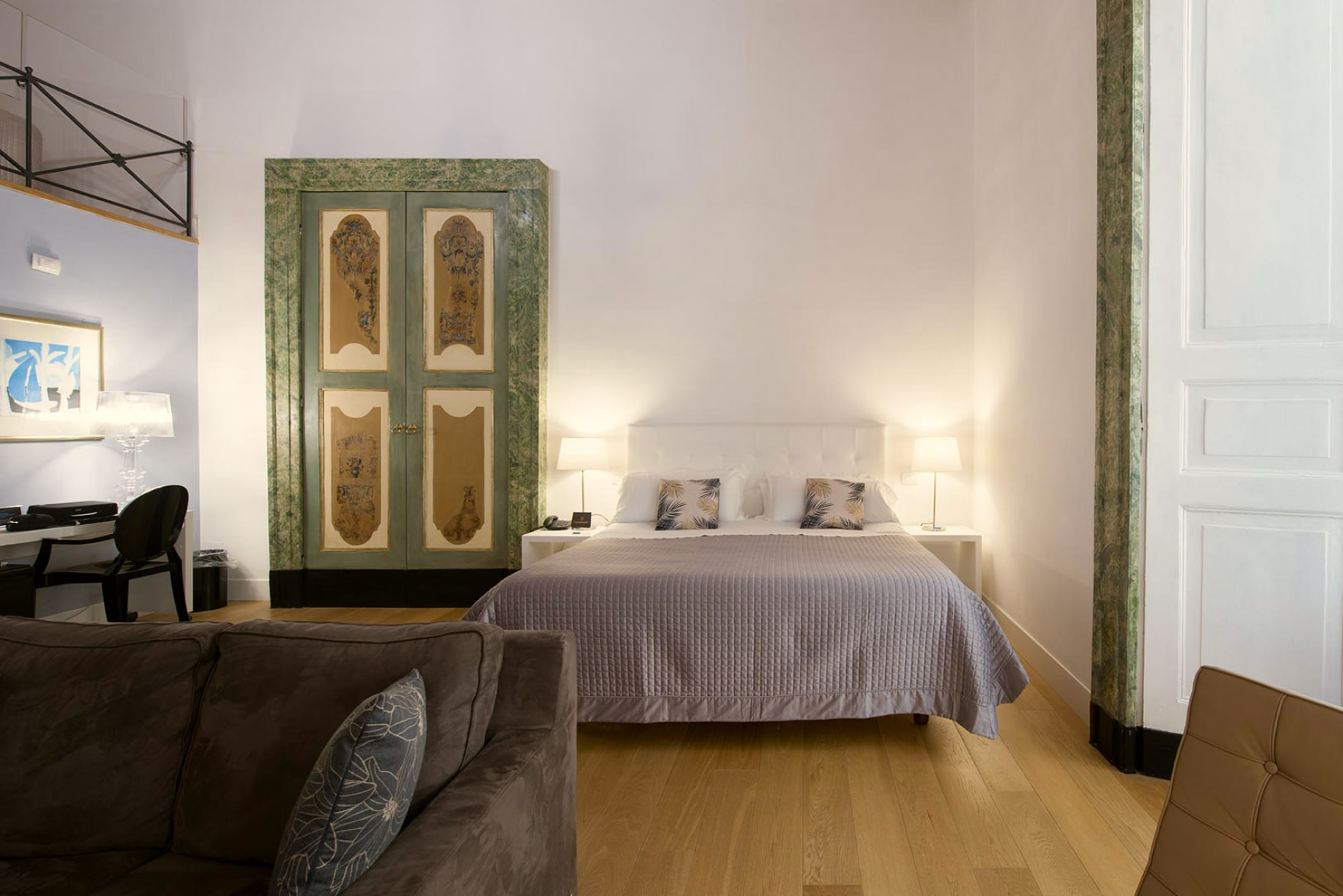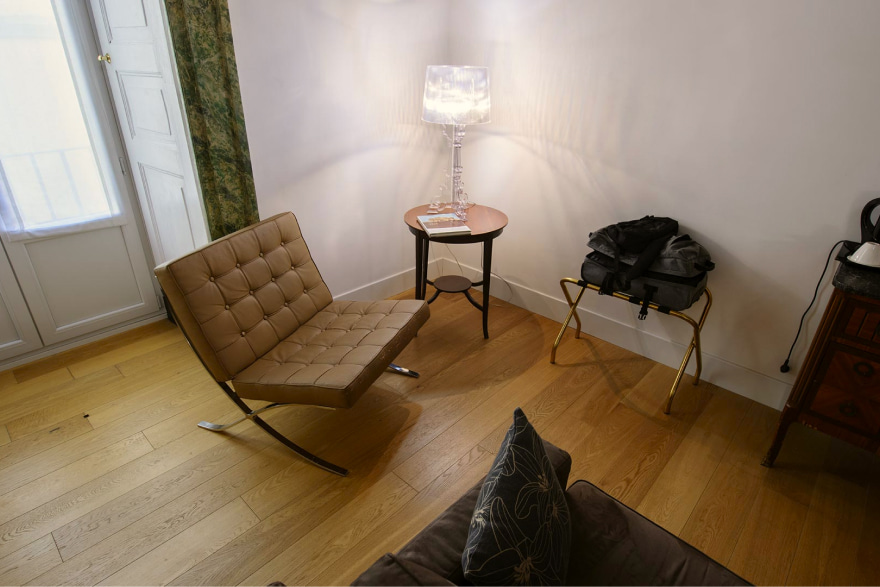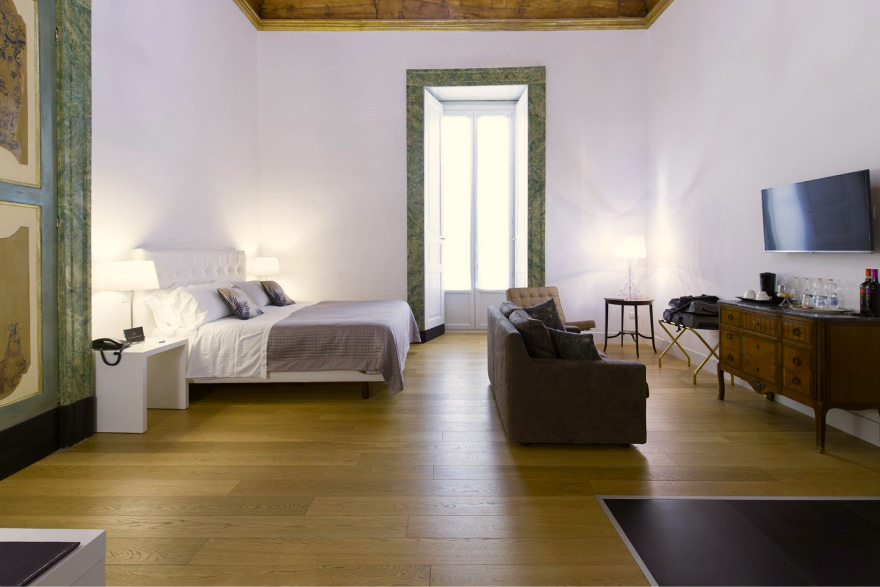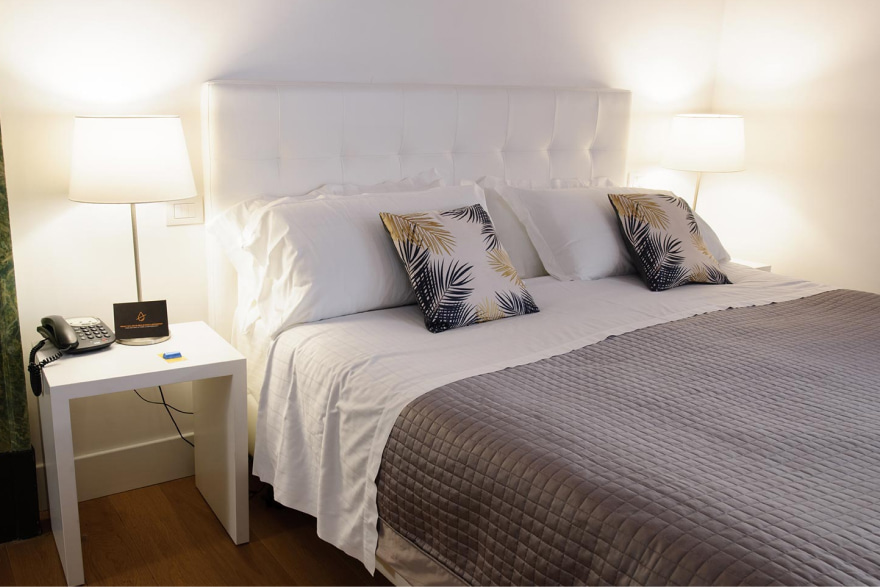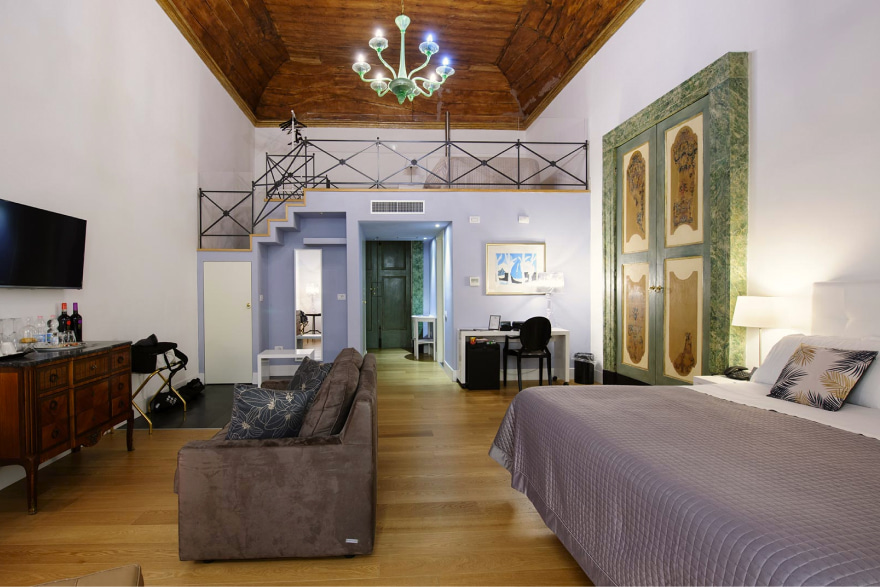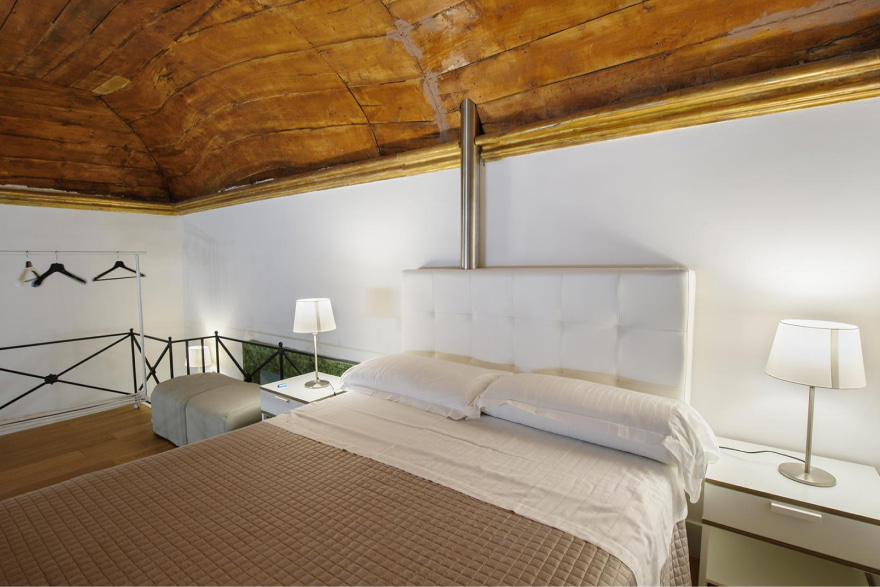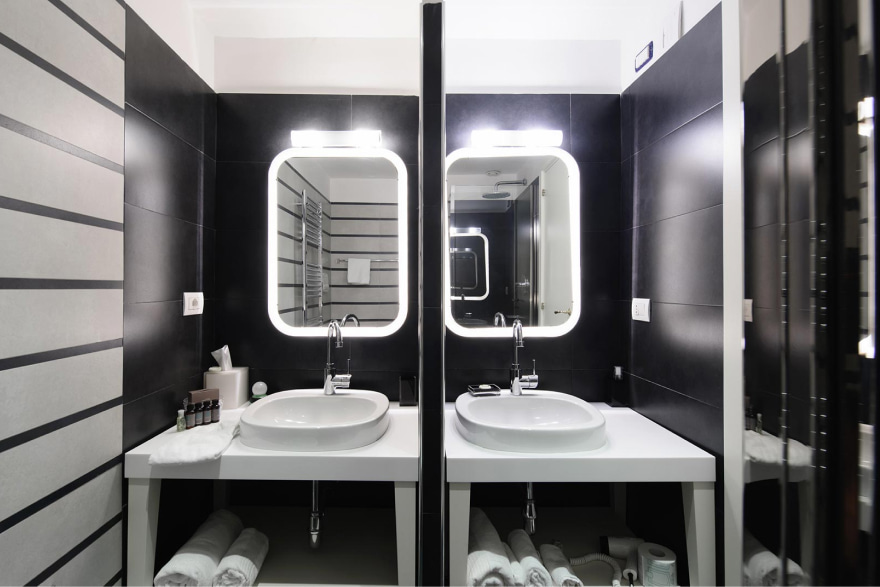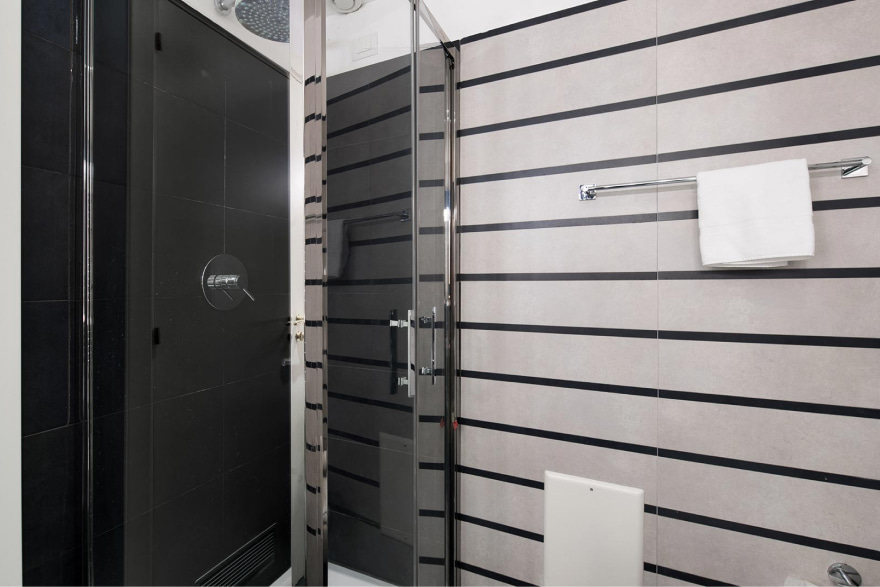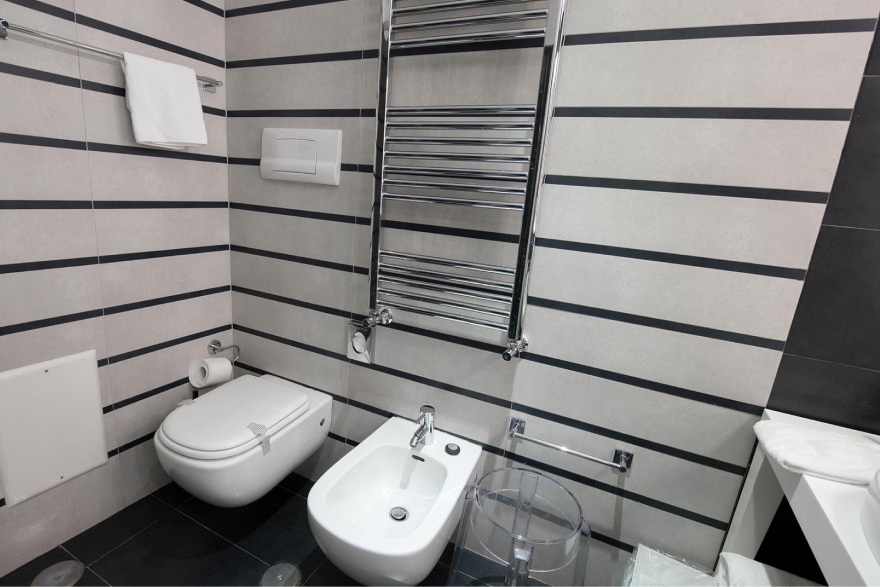 The large and bright suite, enriched by high ceilings, offers a design in which the modern style marries perfectly with the elegance of the rediscovered Baroque correspondence and the restored interiors, such as the ancient wooden ceiling of the shipwrights. To embellish everything, the services are designed to measure for our guests, which make the stay a unique and suggestive experience. The comfortable mezzanine with a queen bed offers further practicality and space, ensuring a pleasant and unforgettable stay.
52 sqm
4 guests
mezzanine
Balcony facing spaccanapoli
1 king-size bed with topper
1 queen-size bed

Sofa
3 wardrobes
Soundproof windows
Bathroom with double sink
42-inch TV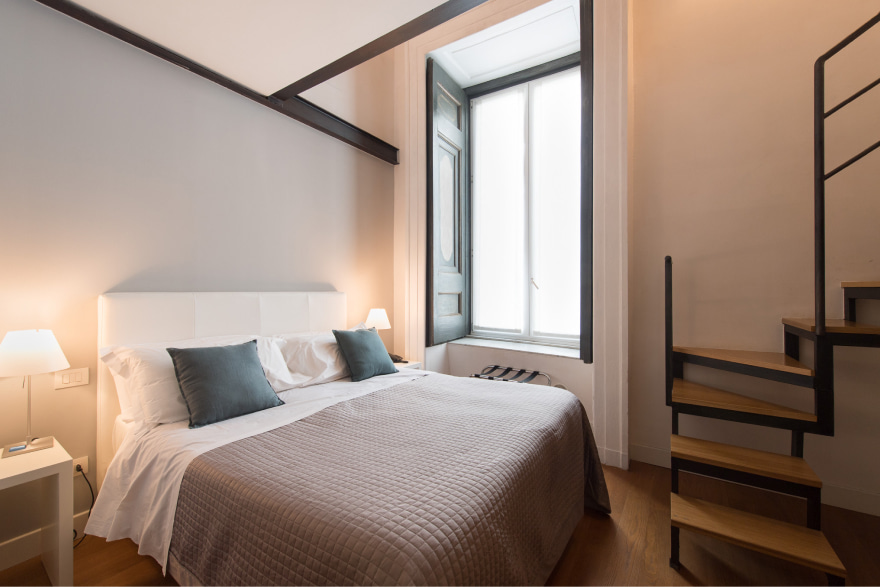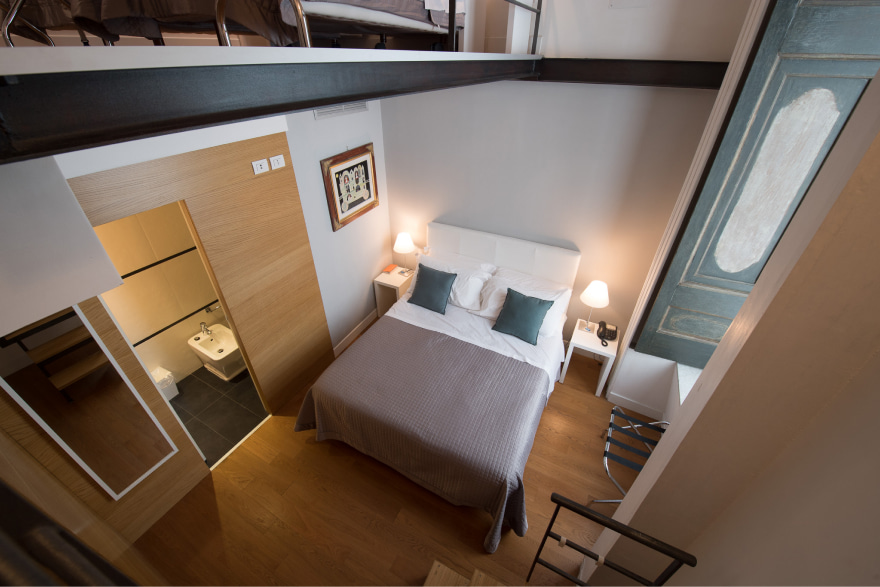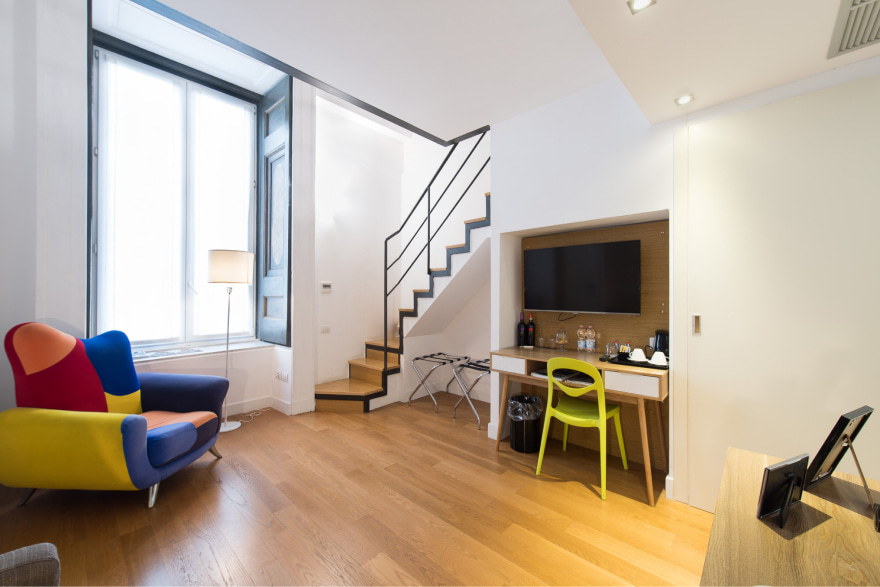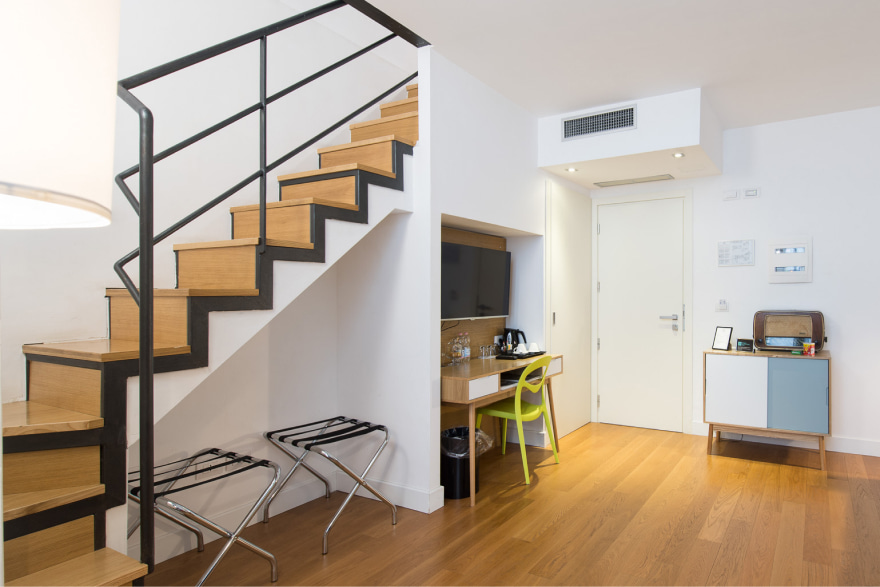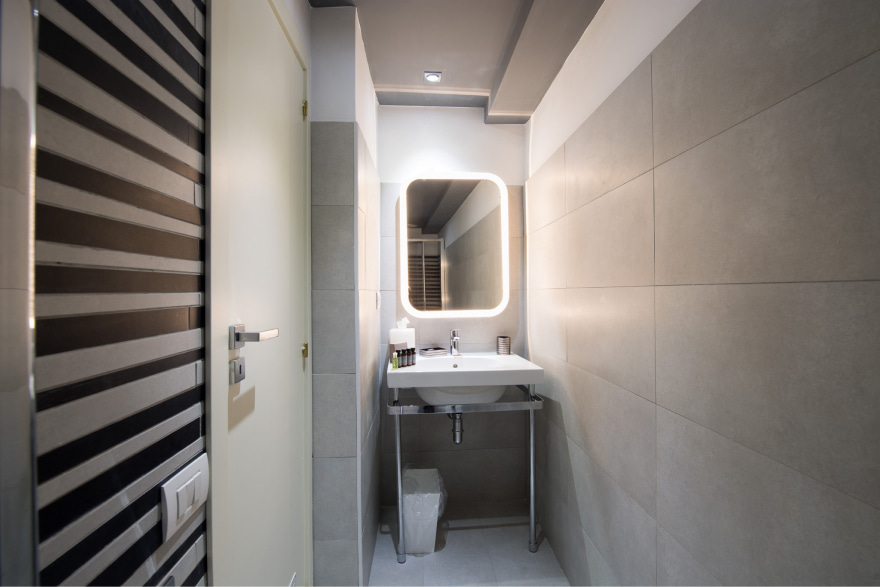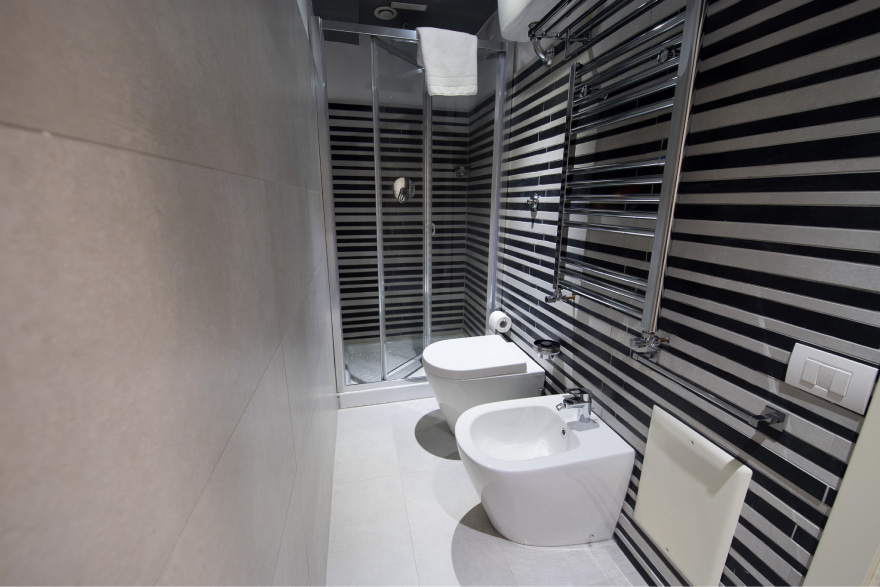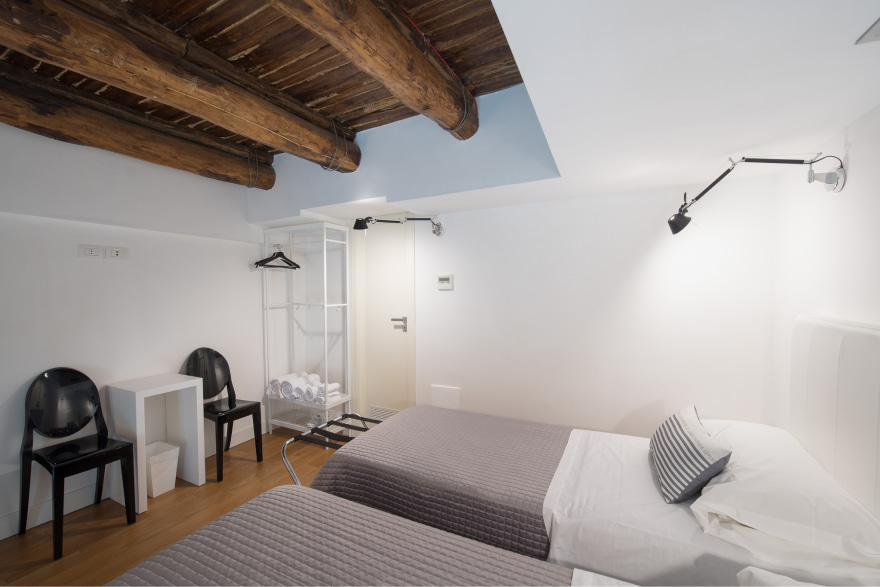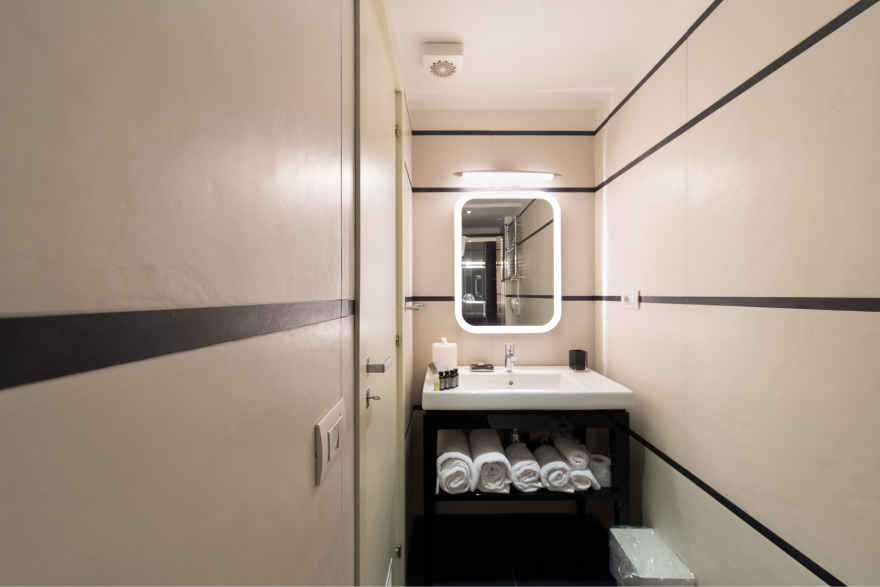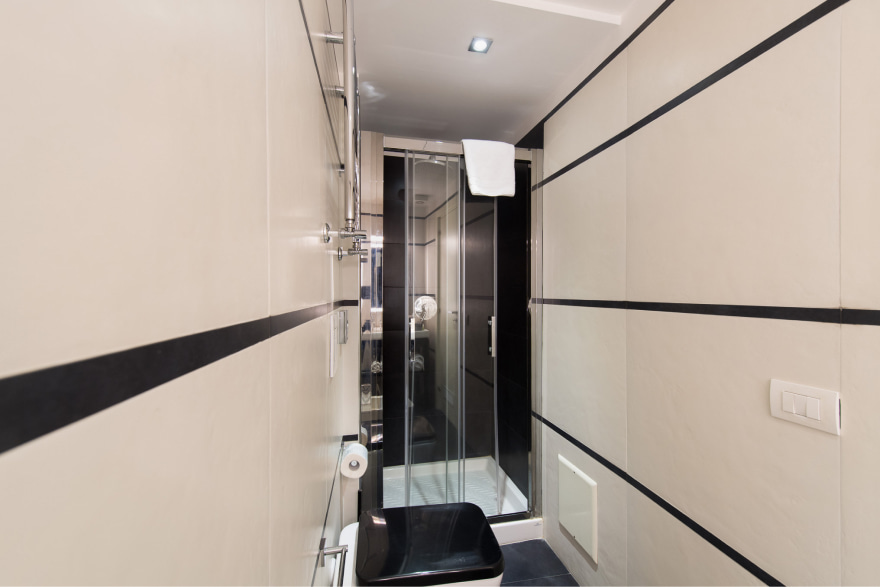 Excellent choice for couples of friends who want to share the journey without having to give up their privacy but also for families or groups of friends. Furthermore, the room is ideal for hosting a business clientele and meetings for short business meetings.
62 sqm
6 guests
2 mezzanines
Windows overlooking the courtyard
1 double bed with topper
4 twin beds

Sofa and armchair
Soundproof windows
3 bathrooms
42-inch TV
Living area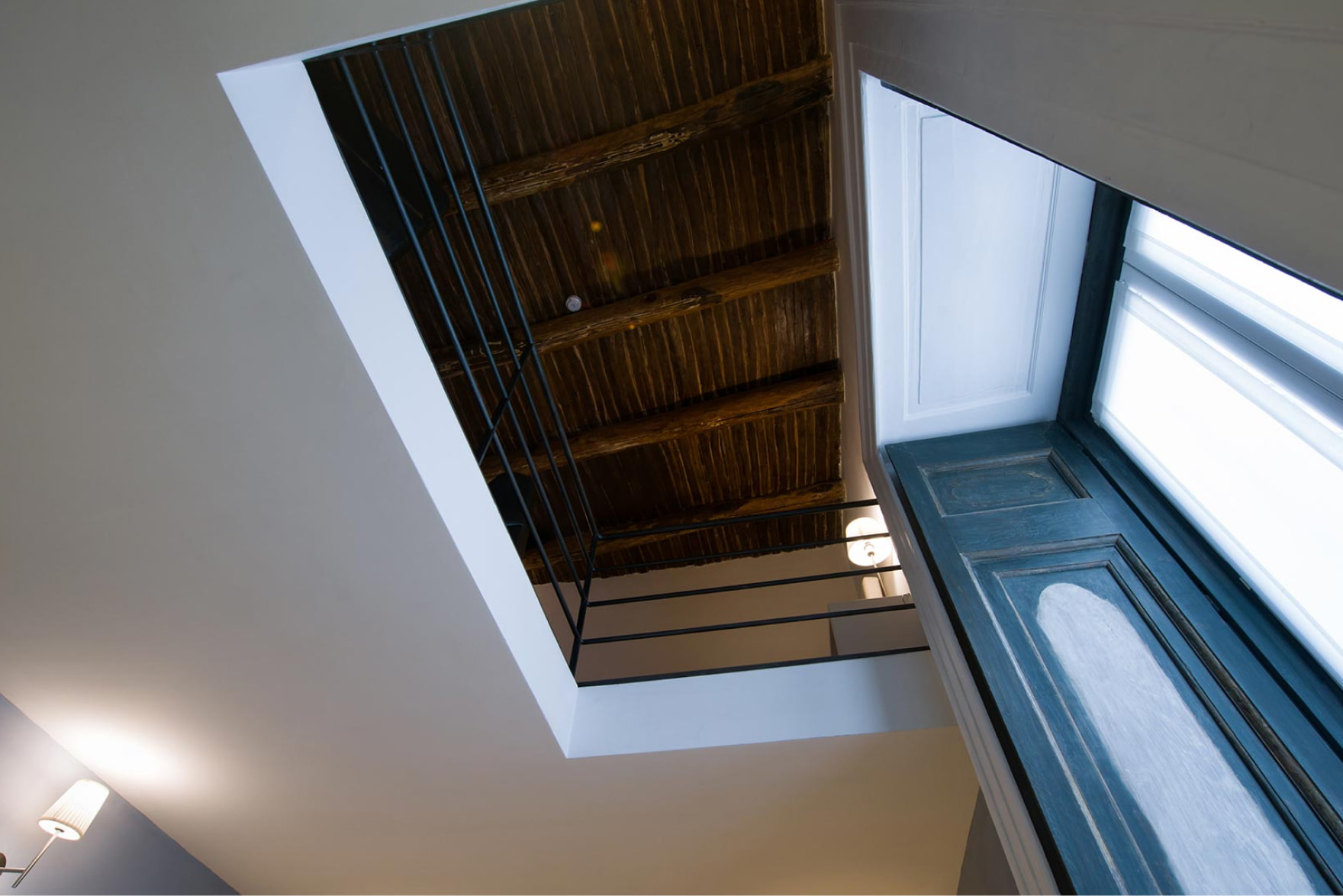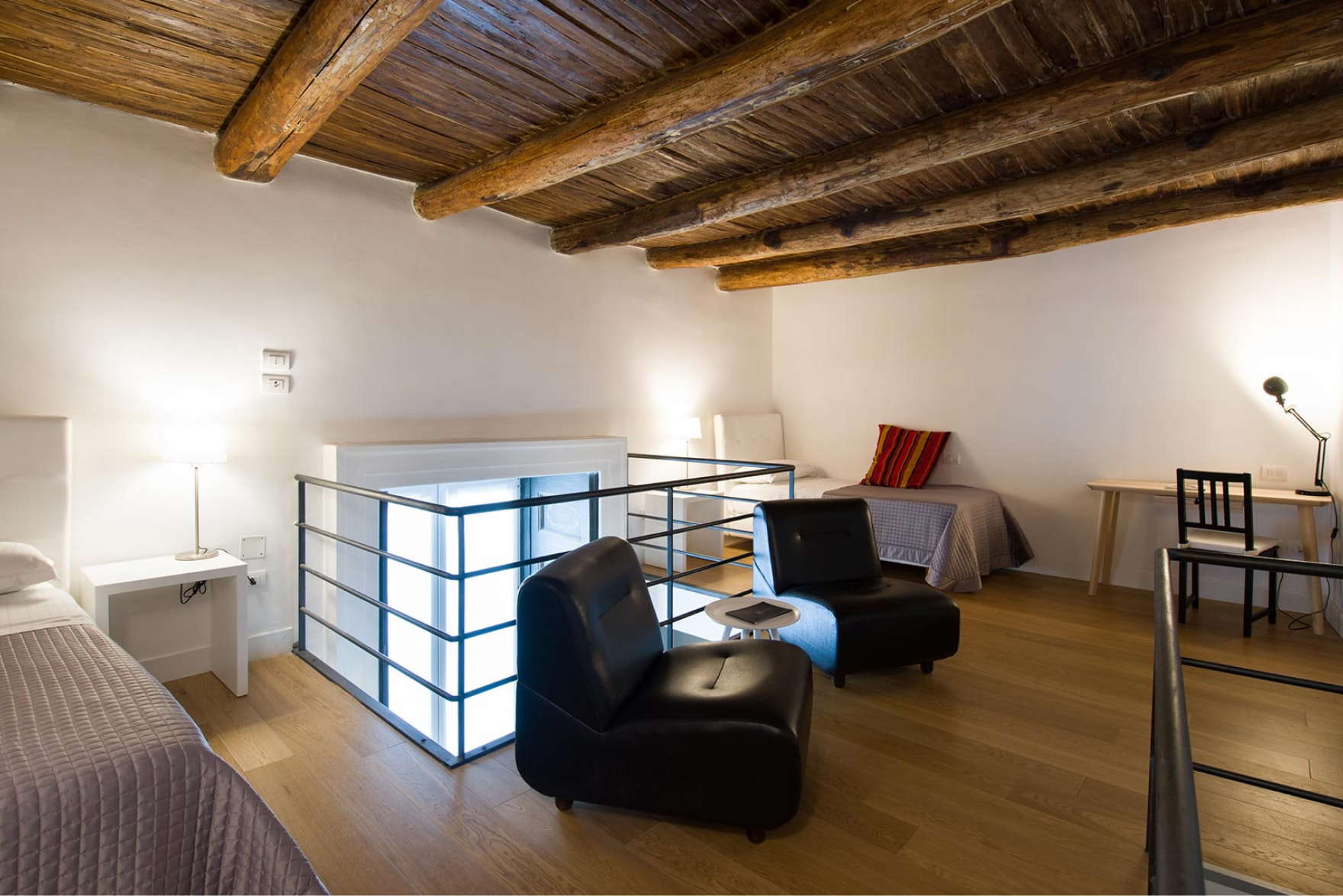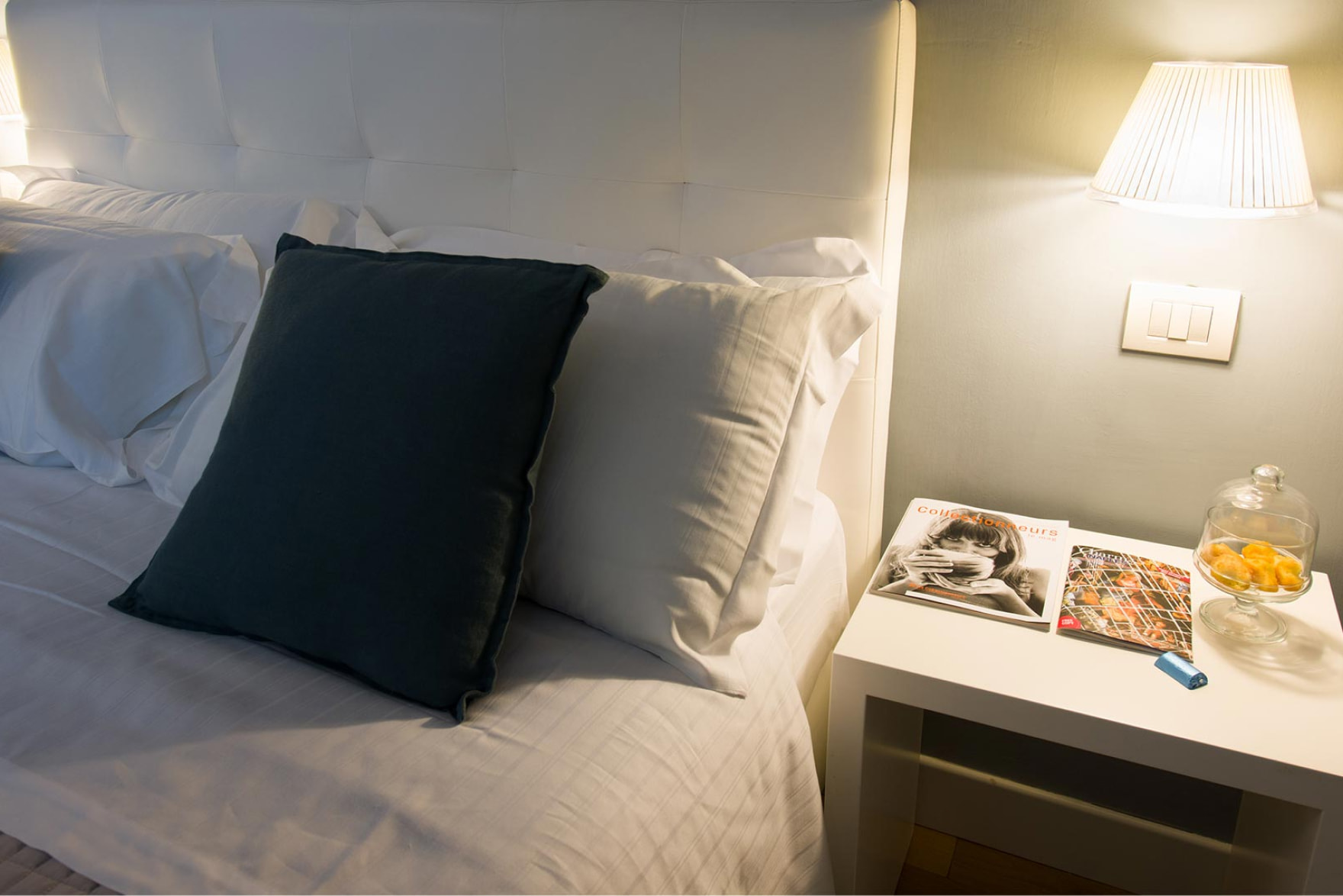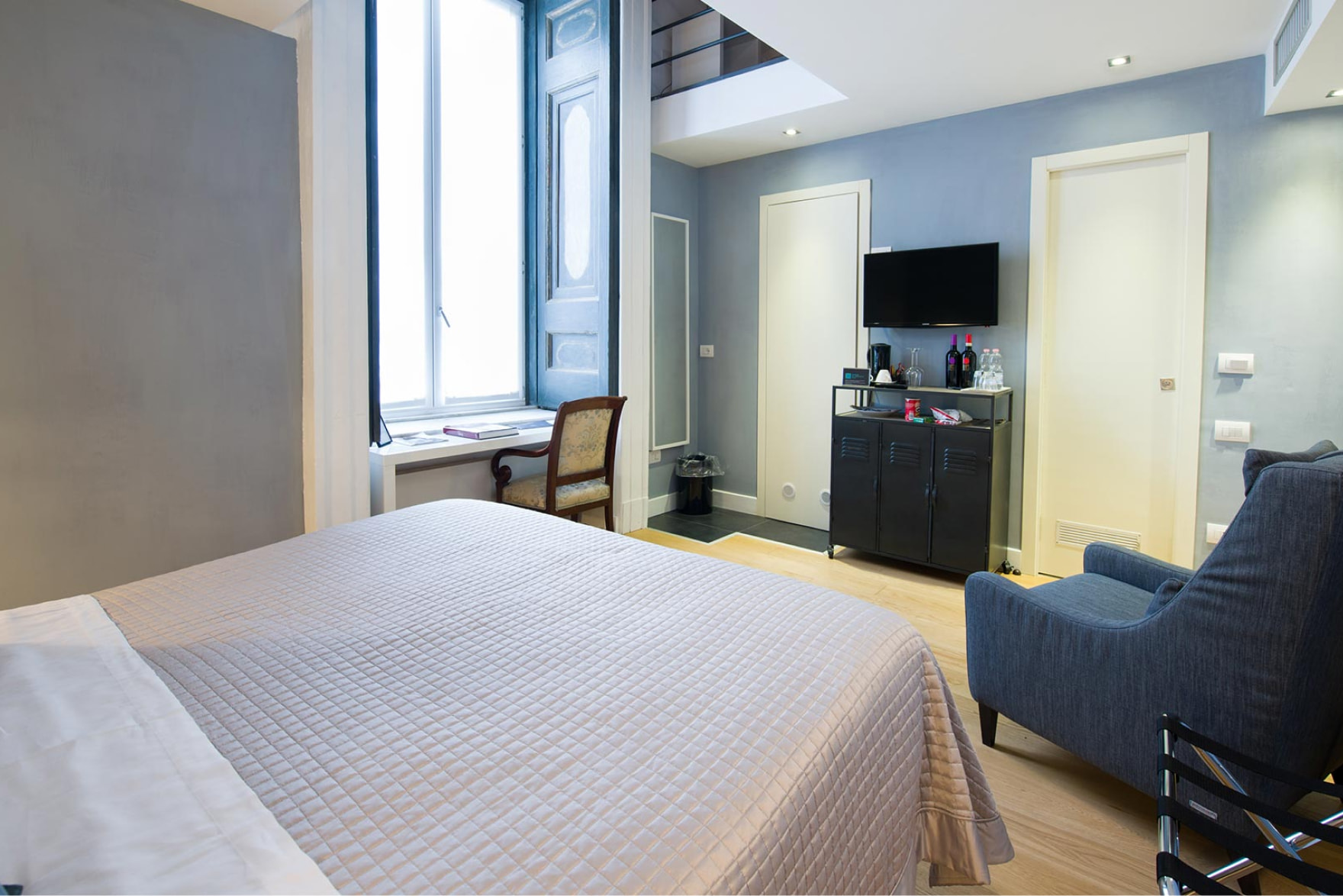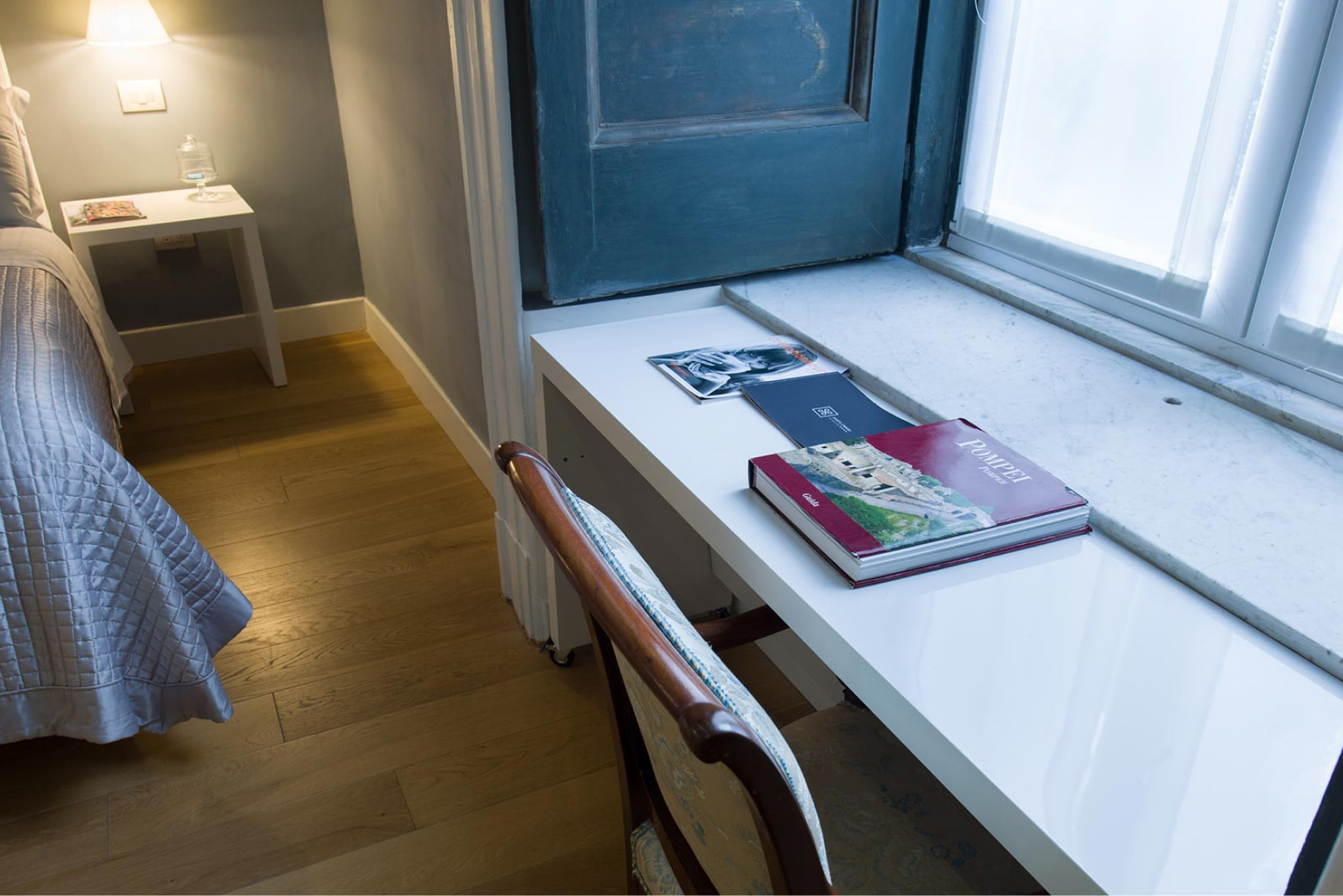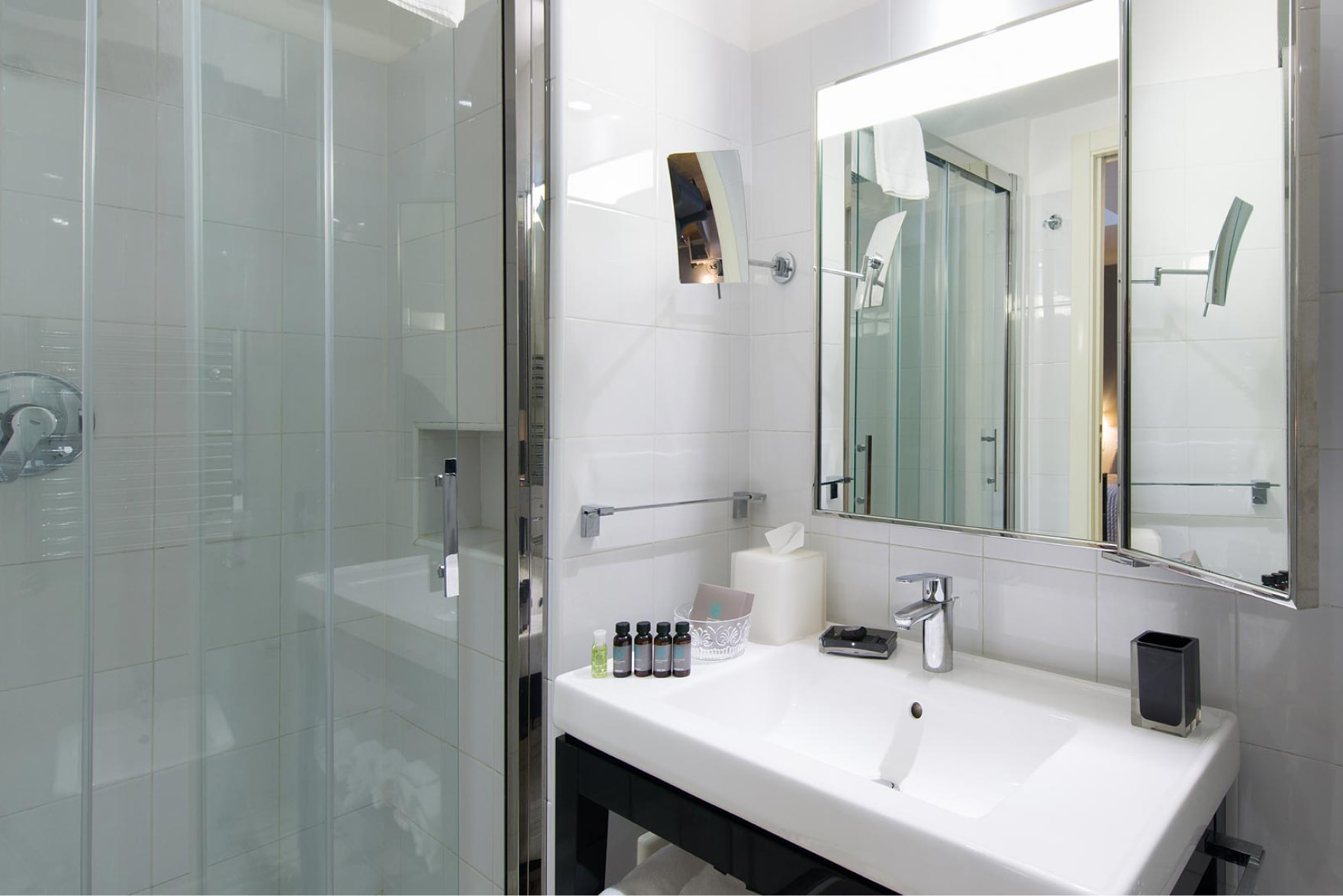 A double room connected by a mezzanine. Able to offer the right amount of privacy, the suite is the perfect solution for both families and groups of friends. Each room is equipped with a generous wardrobe and bathroom with shower, ensuring a pleasant stay experience and pure comfort.
49 sqm
4 guests
mezzanine
2 bathrooms

3 wardrobes
1 double bed
2 twin beds
32-inch TV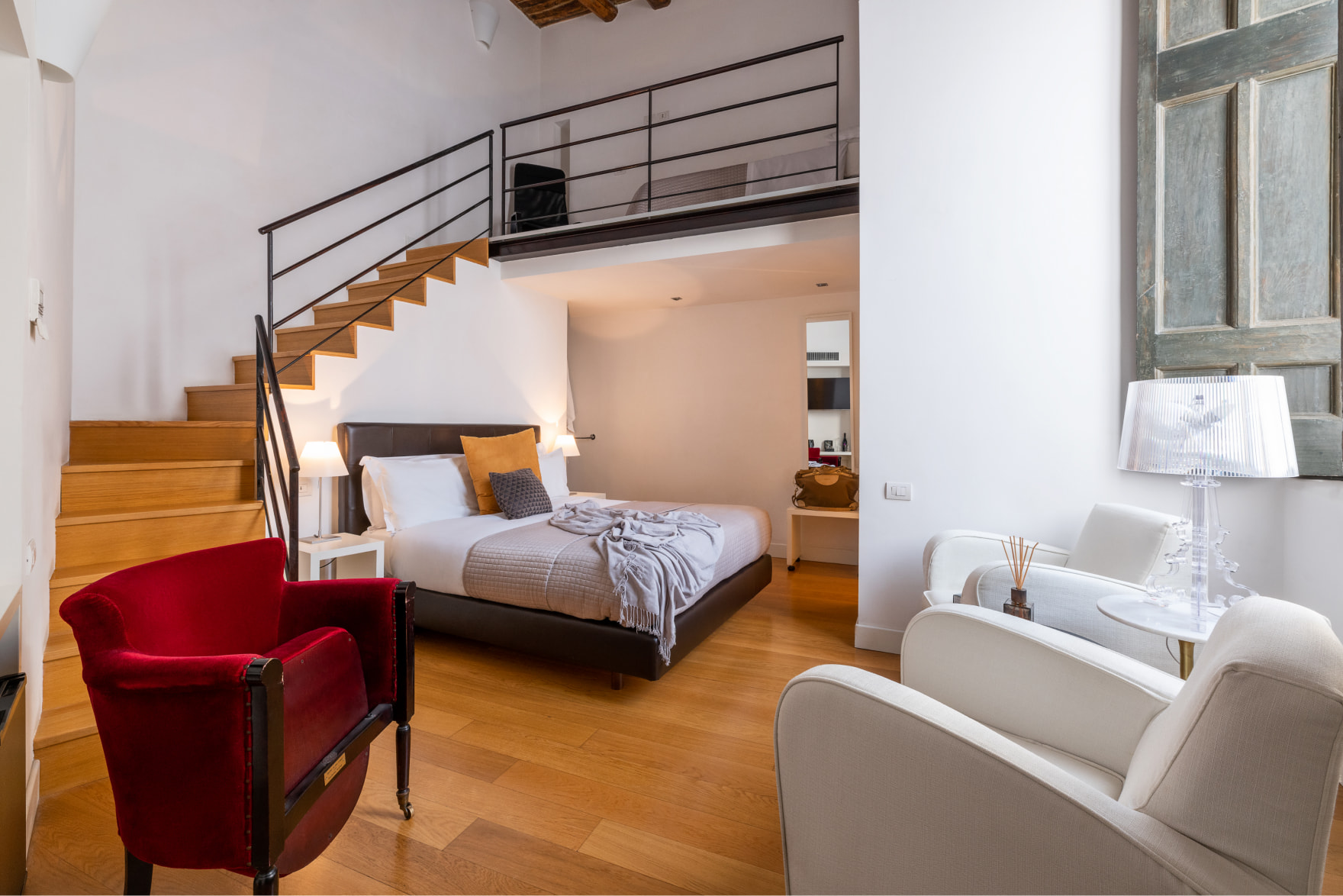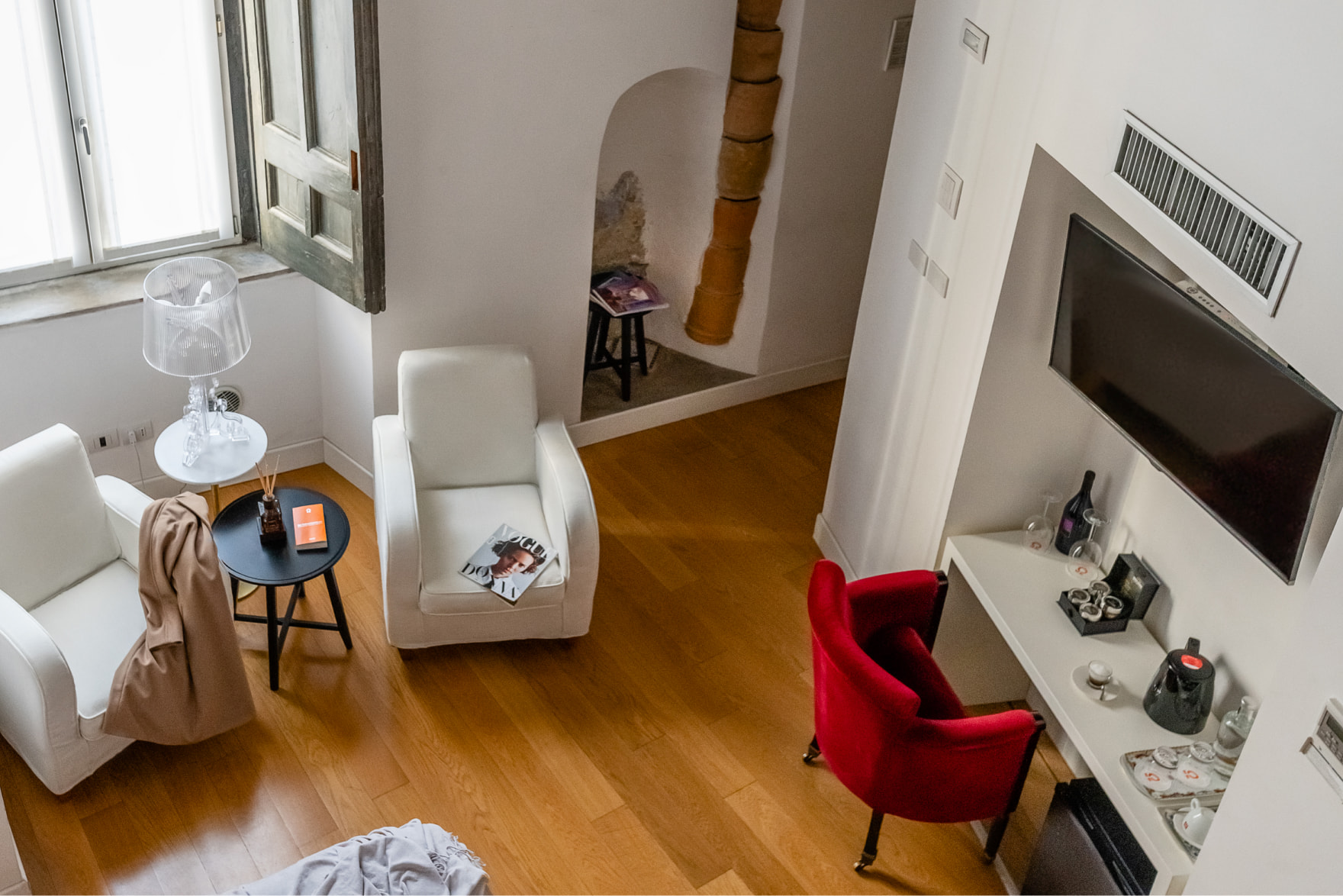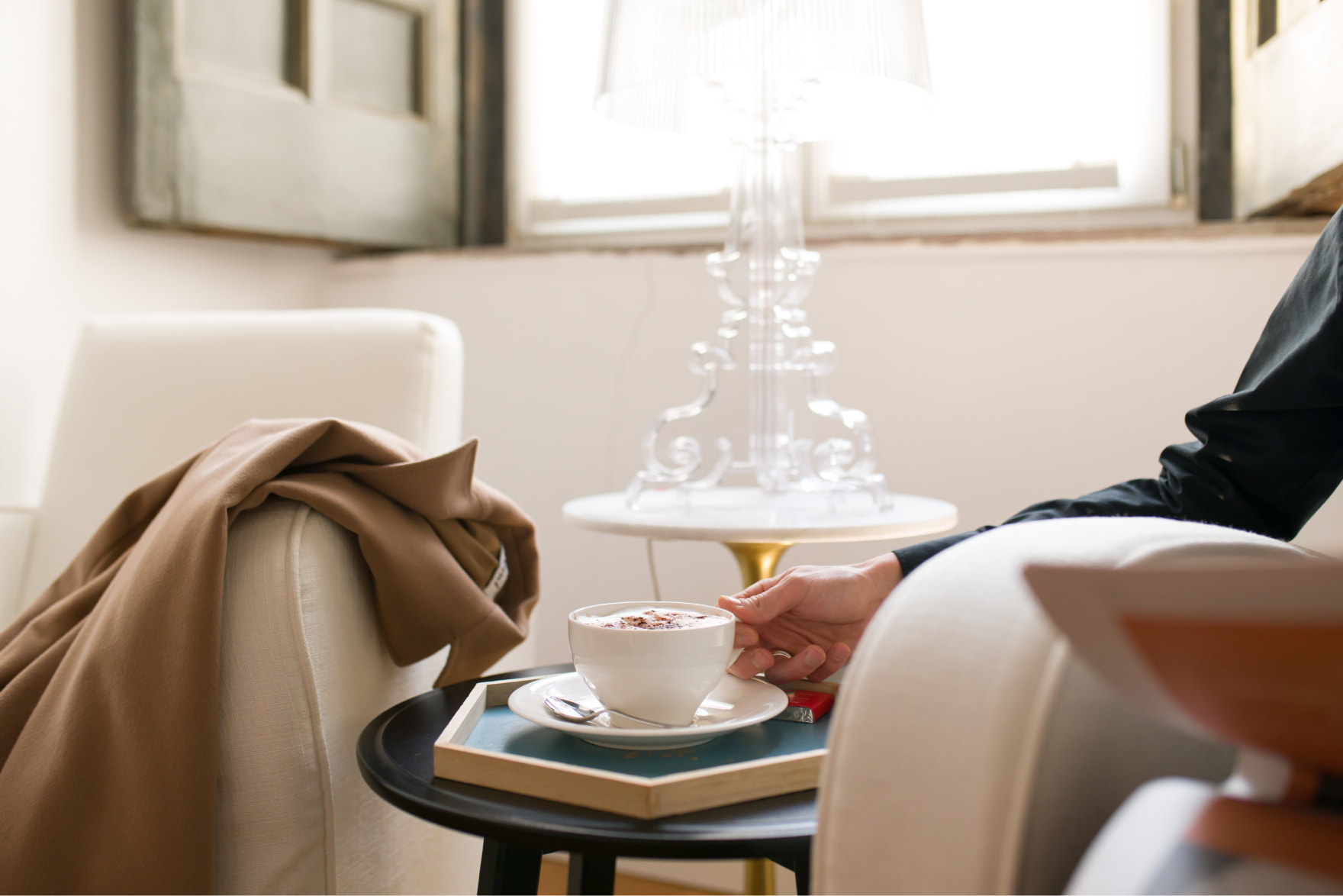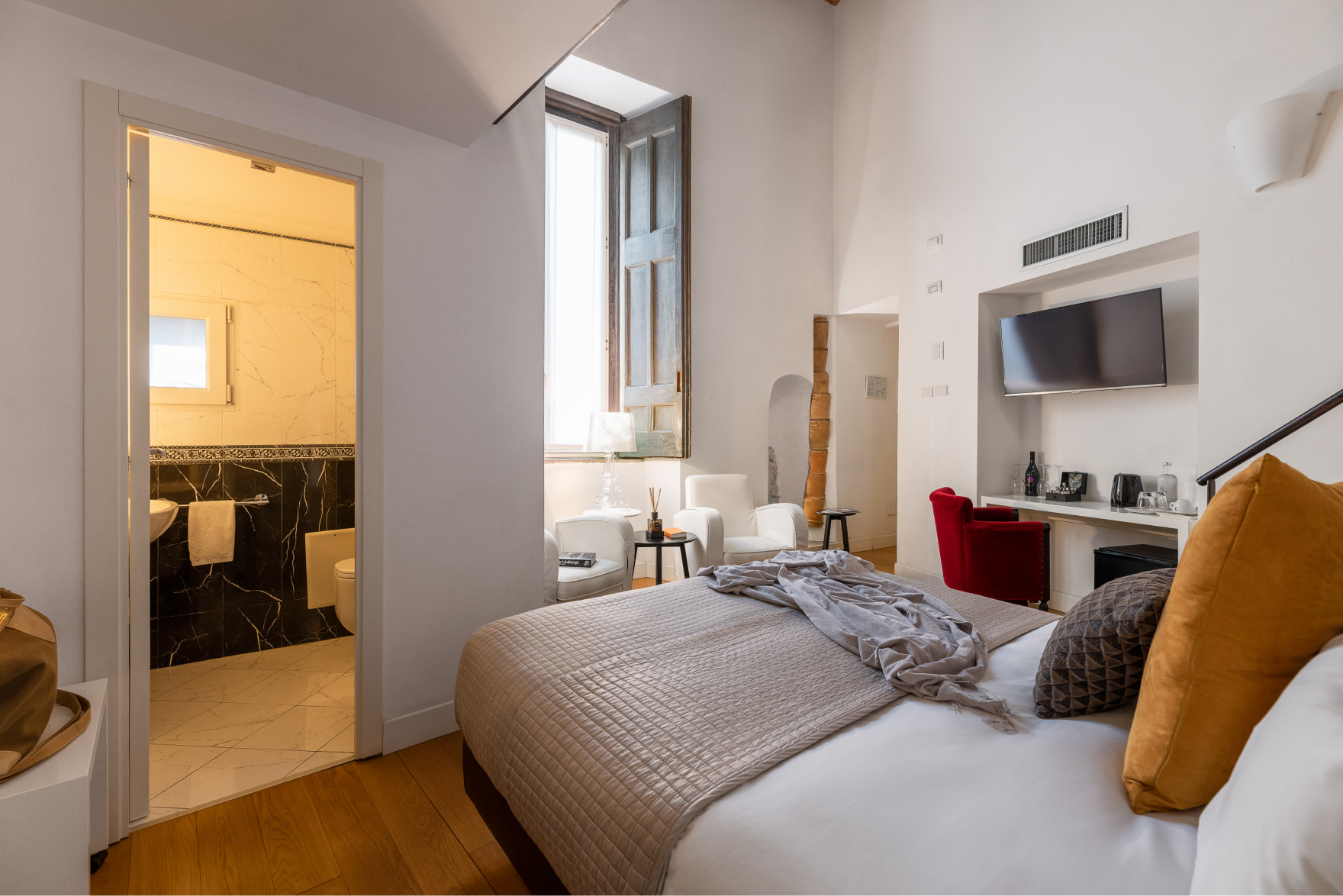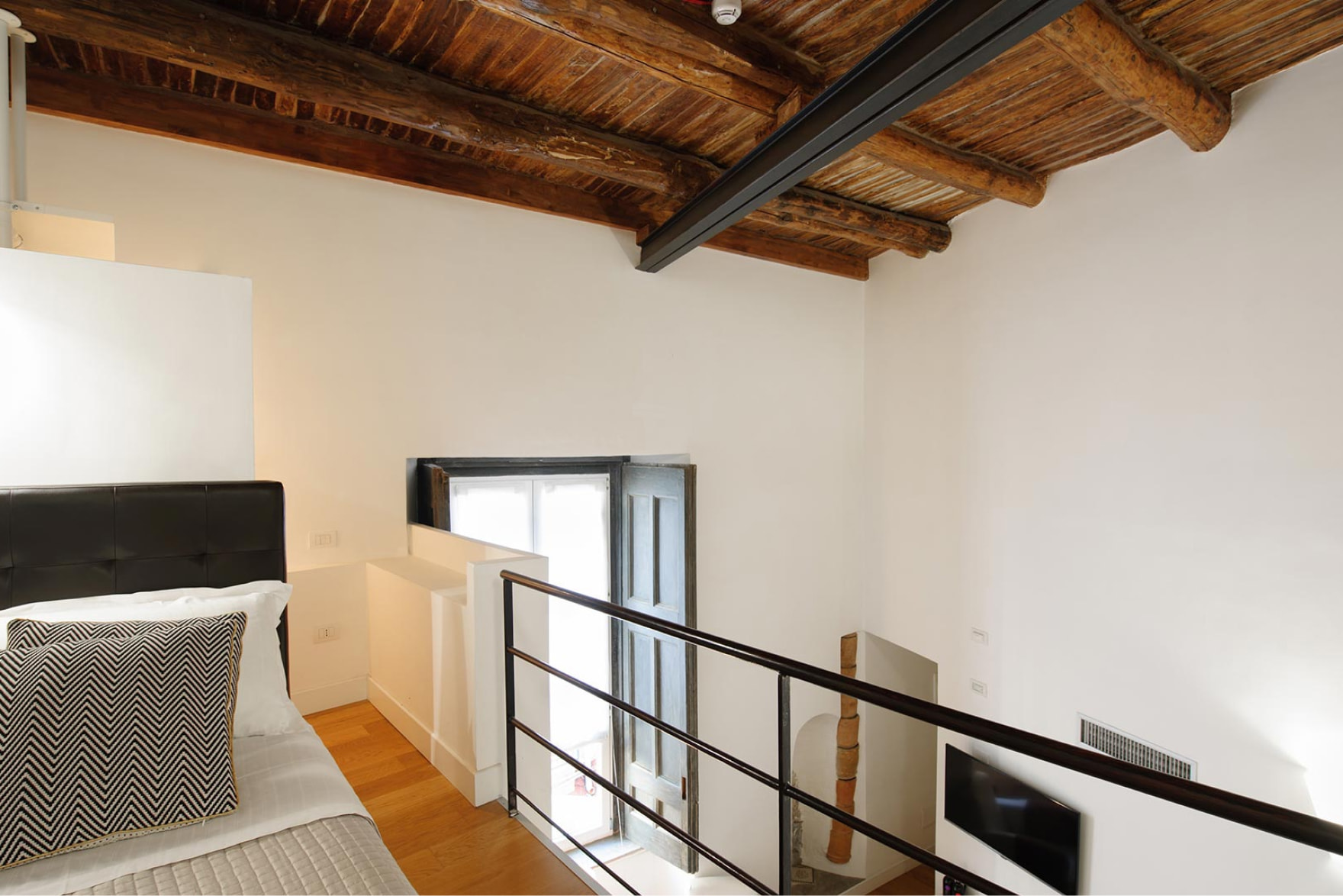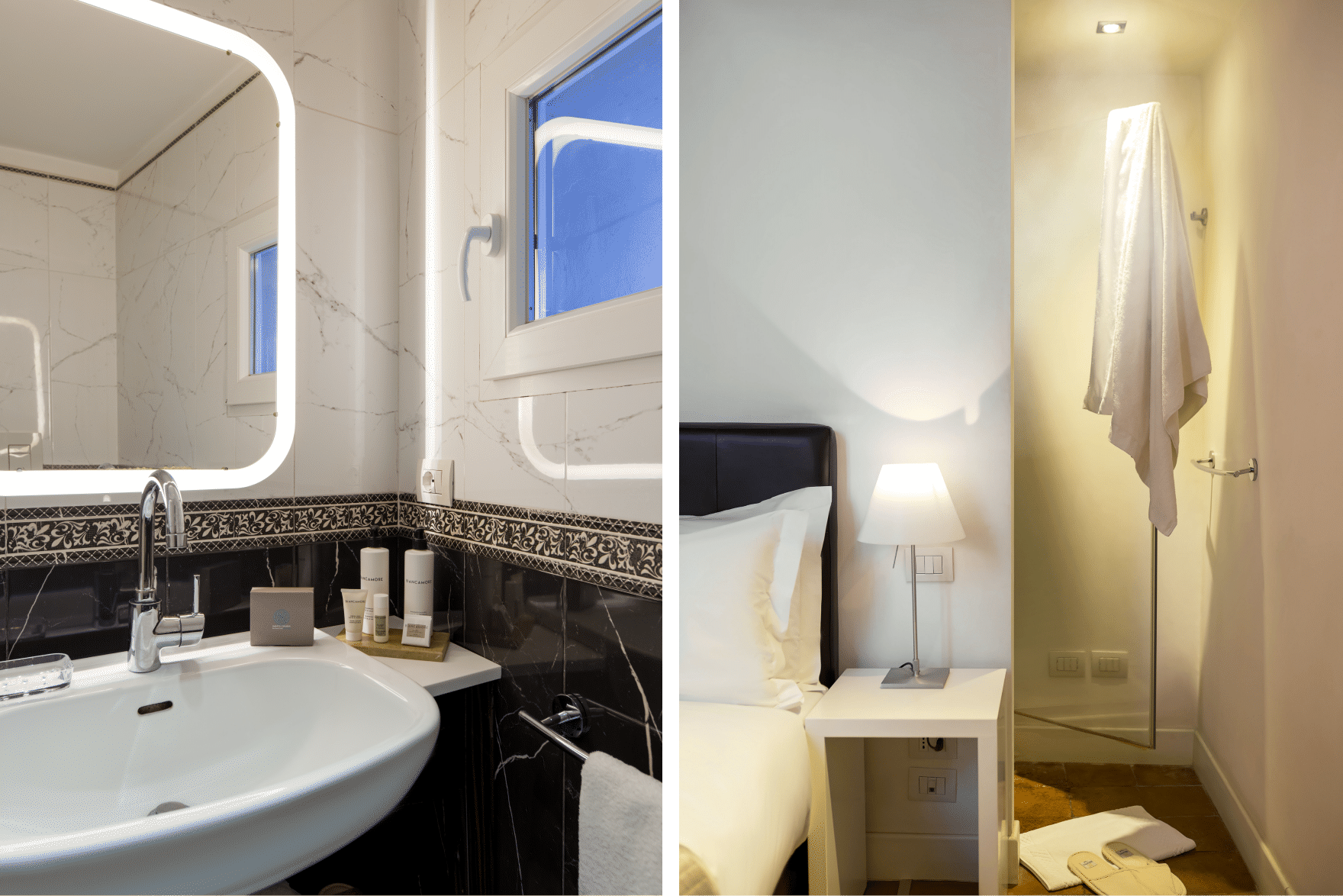 With its approximately 30 square meters, the suite offers a large and comfortable space. The surrounding quiet allows you to enjoy a relaxing atmosphere. Furthermore, the height of the ceiling allows us to accommodate a mezzanine with a wardrobe for a third guest, offering the comfort of a real apartment.
28 sqm
3 guests
mezzanine
Separate shower
Windowed bathroom

1 king-size bed with topper
1 single bed
2 armchairs
42-inch TV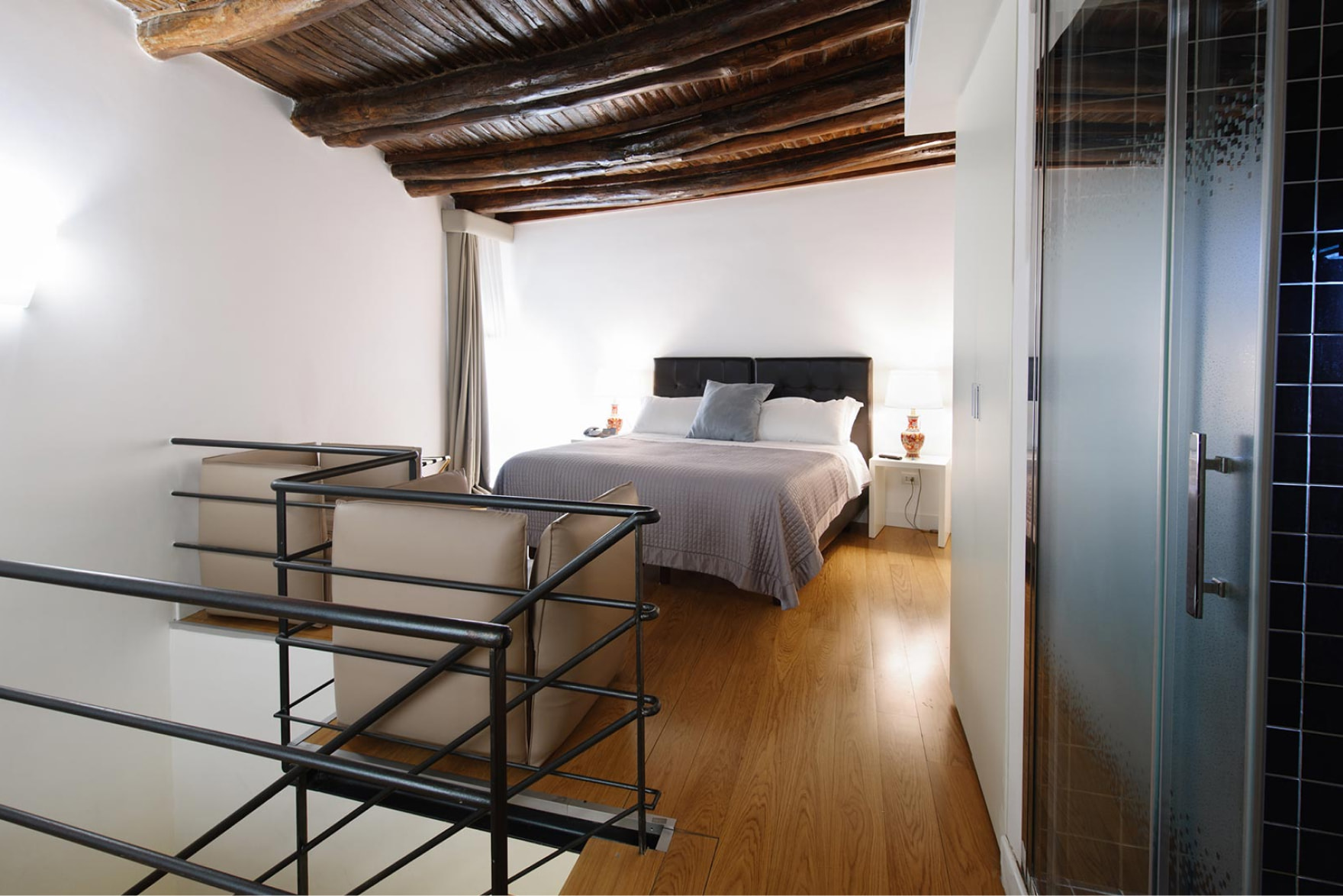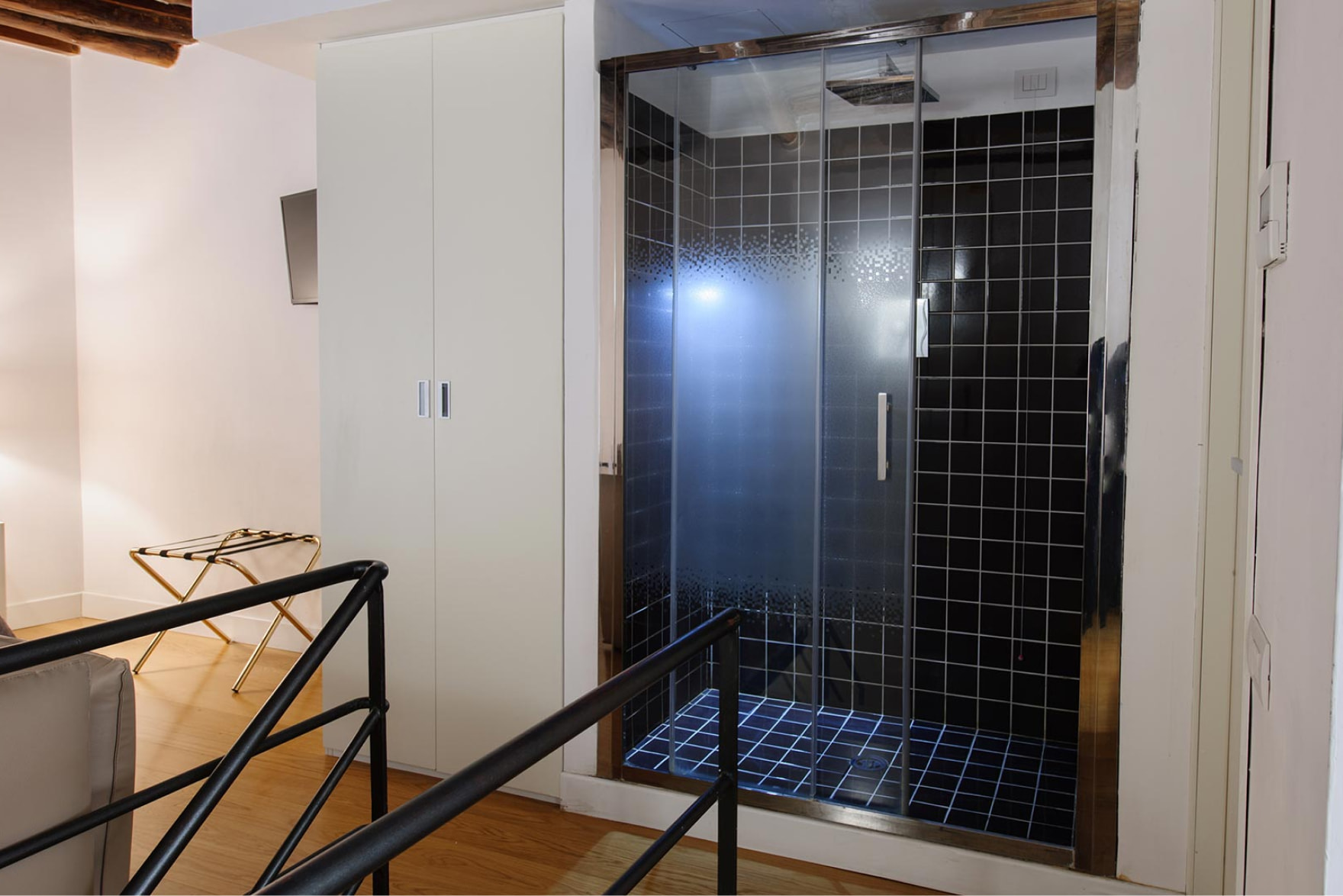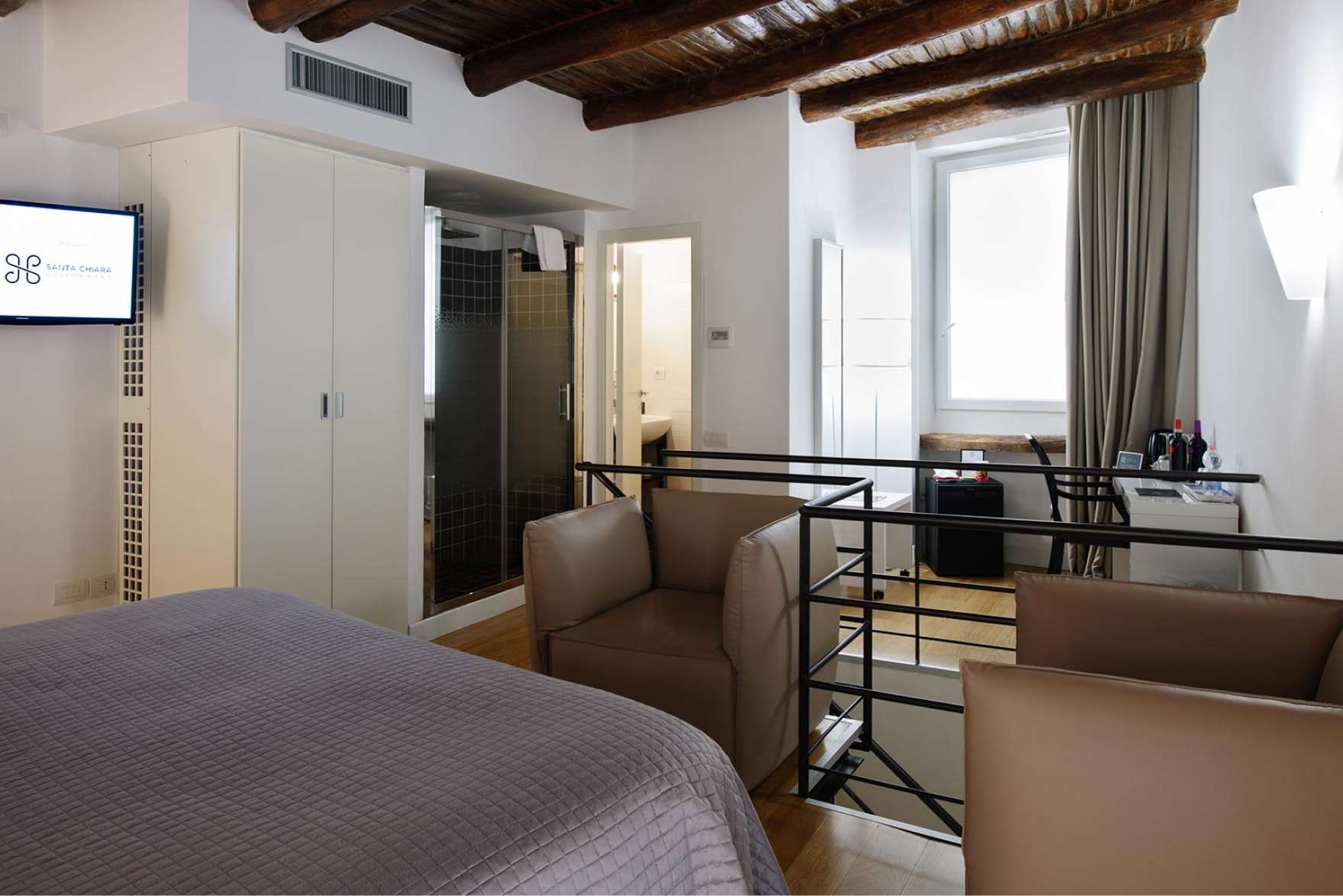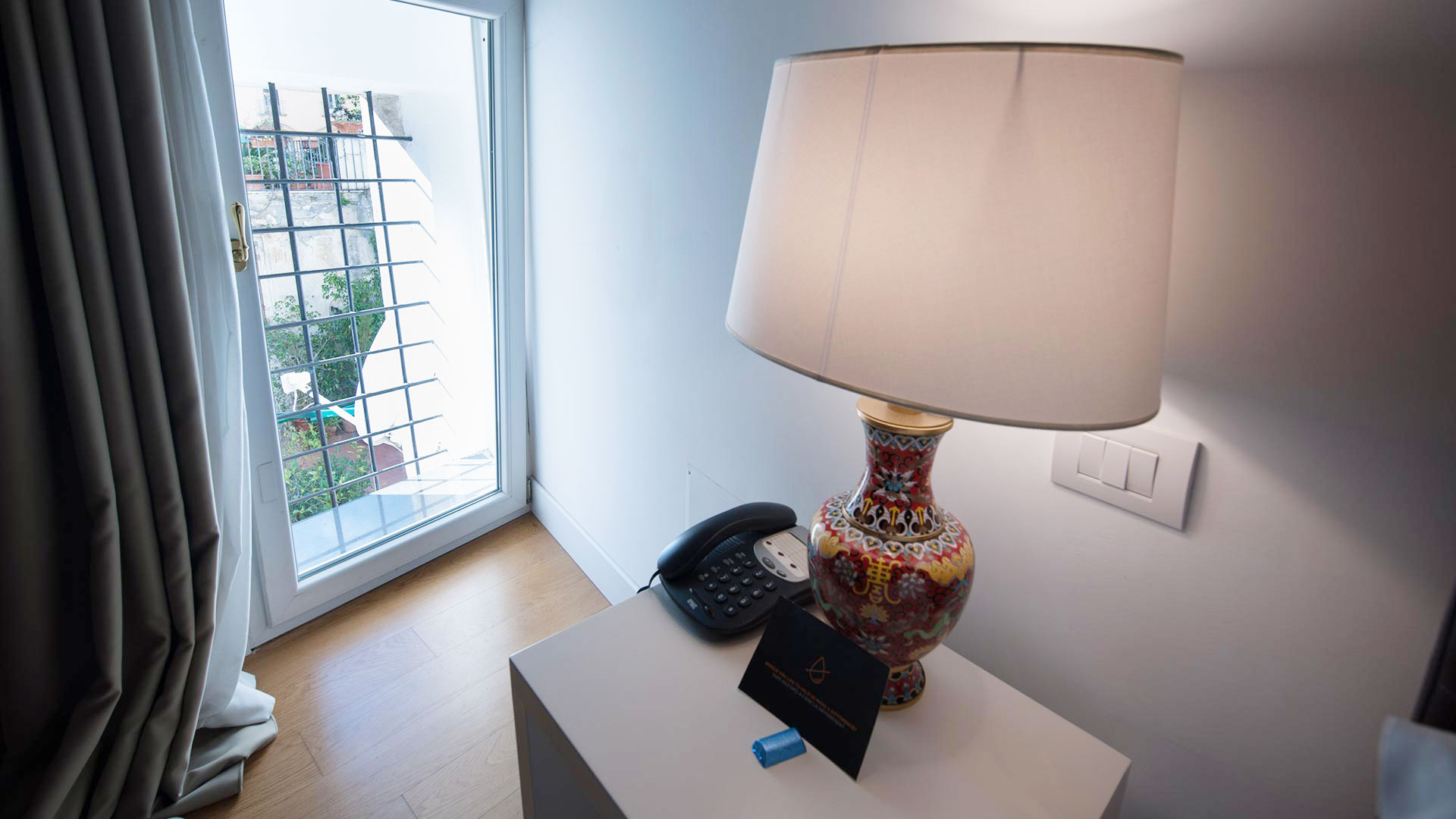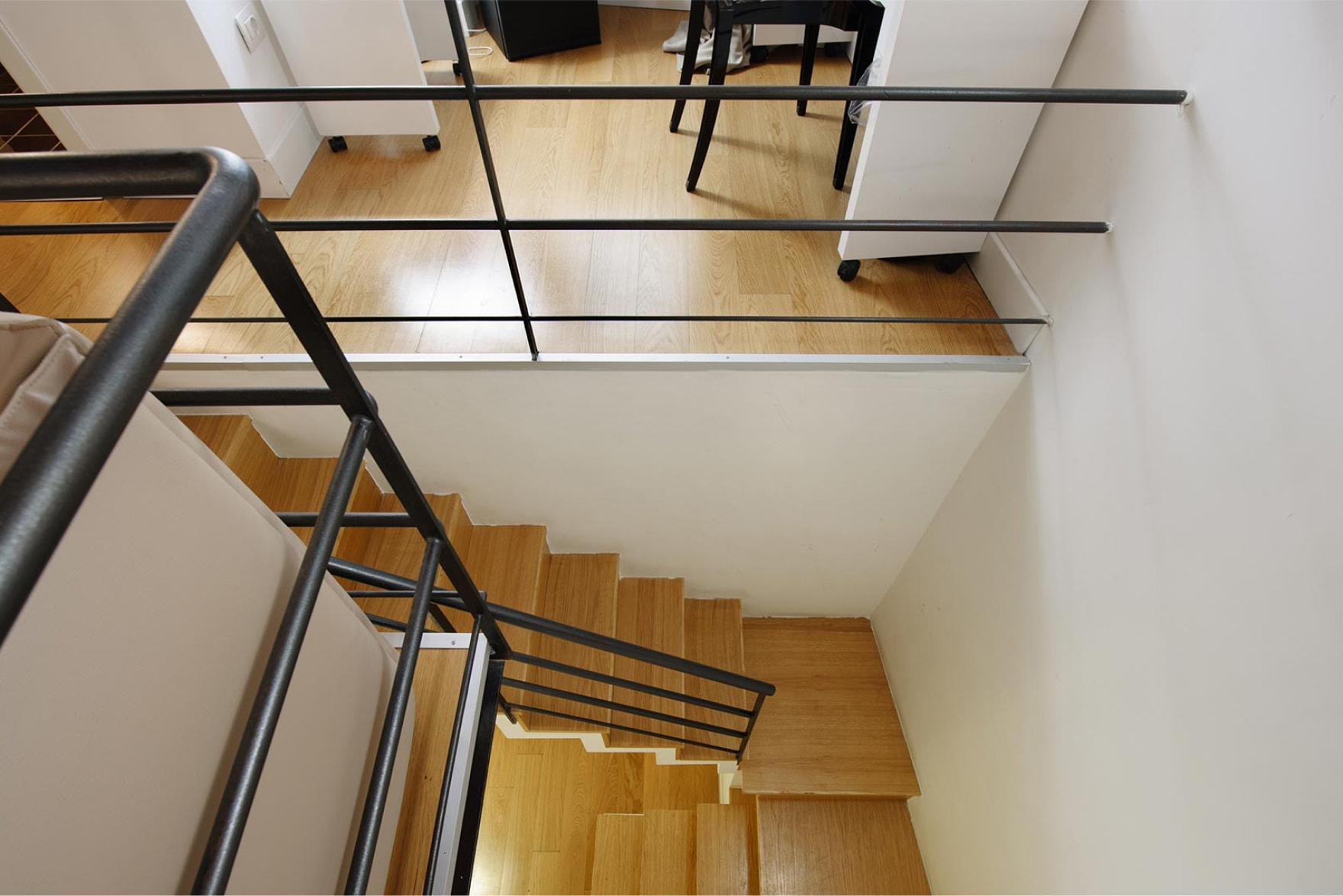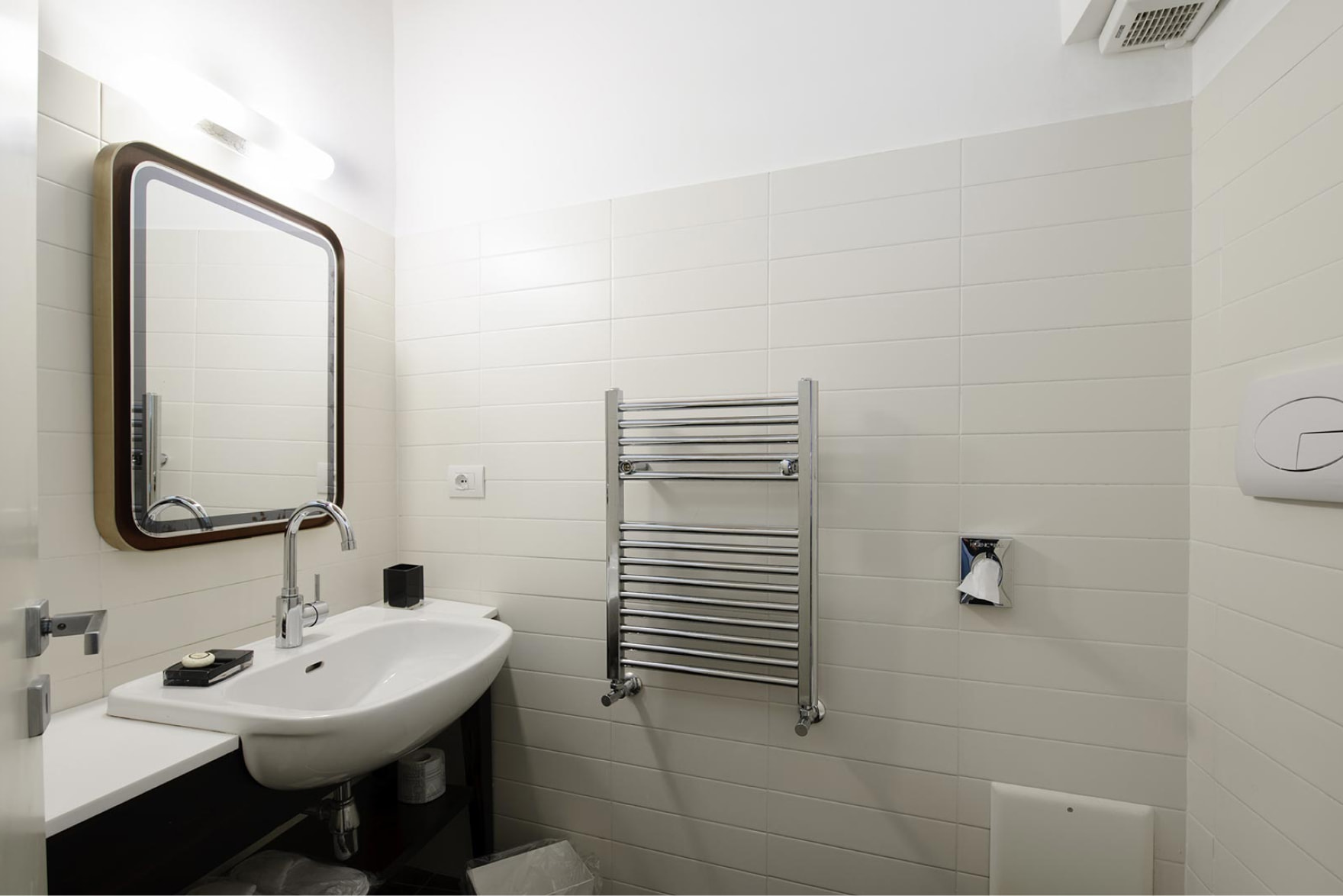 An intimate and warm atmosphere welcomes guests staying in this suite. Elegant in its simplicity, it is perfect for couples who want to enjoy a stay in one of the most fascinating cities in the world.
24 sqm
2 guests
mezzanine
Separate shower
Windowed bathroom

Choice of 2 twin beds or 1 king-size bed
2 armchairs
42-inch TV

SERVICES ACTIVE IN EVERY ROOM
COMPLIMENTARY WATER DAILY
Discover the glam side of Santa Chiara Boutique Hotel
Are you looking for rooms with a modern design and a dynamic style?