L
et's be honest. Are you seriously in Naples and thinking of staying on a diet? As soon as you set foot on one of our streets you will realize that it will be a very tough undertaking. So, let yourself be guided by your gluttony and discover all the flavors this city can give you through food. Let me be very clear. We're not just talking about street food. Naples has an infinite number of dishes, able to satisfy any type of appetite: vegan, vegetarian, healthy, starred and - of course - traditional.
We at the Santa Chiara Boutique Hotel will guide you on an exciting gastronomic tour in the historic center of Naples, to discover the authentic culinary delights that characterize the city. We will explore unmissable stops for a complete food and wine experience. Get ready to immerse yourself in a journey of flavors that will leave you speechless. But only because your mouth will be full. 
A good morning begins with breakfast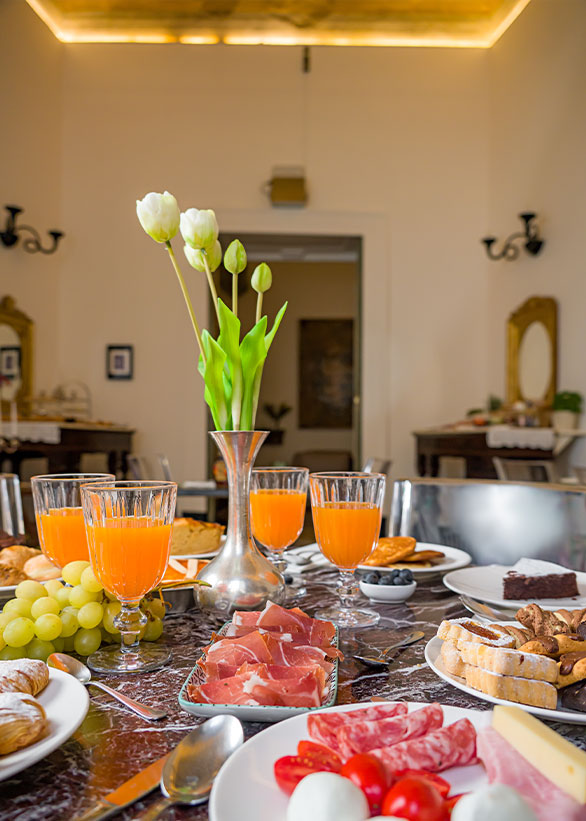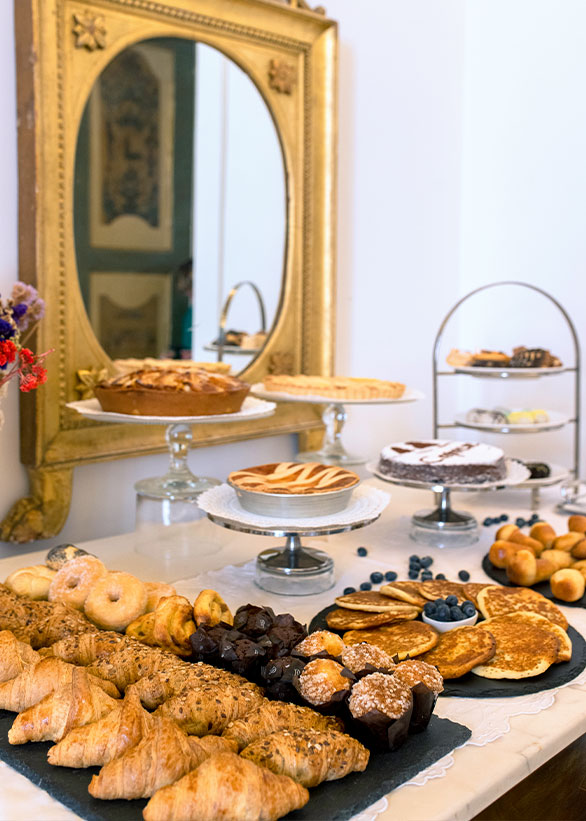 Start your day within our walls. Whether it's in our breakfast room, on the panoramic terrace or comfortably in bed with our room service, our staff will greet you in the morning with a breakfast made up of the best delicacies of Neapolitan patisserie: babà, ricce and shortcrust pastry, pastiere and typical homemade desserts. Accompany everything with a real Neapolitan espresso, rich in aroma and intense flavour. These delights will give you the energy you need to start your day on the right foot.
Let yourself be guided by the cobblestones along the streets of the center and lose yourself among the scents and aromas. If you follow them you will always find something beautiful. And good. Let yourself be delighted by unique works in the world, such as the Veiled Christ and the statues in the Sansevero Chapel Museum or admire the richest treasure in the world in the Chapel of San Gennaro. During these stages you can refresh yourself with small but substantial snacks such as Neapolitan street food: omelettes, croquettes, arancini and the classic cuoppi (or cones). Along the streets of the historic center, you can stroll among the stalls full of colors and scents of the local markets such as Sanità, Pignasecca or the Sant'Antonio market, admiring the vast selection of fresh local products. Stop at one of the kiosks and taste the seasonal fruit, such as the juicy Sorrento oranges or the sweet Cilento figs. Don't forget to also taste the dairy products, such as DOP Campania buffalo mozzarella.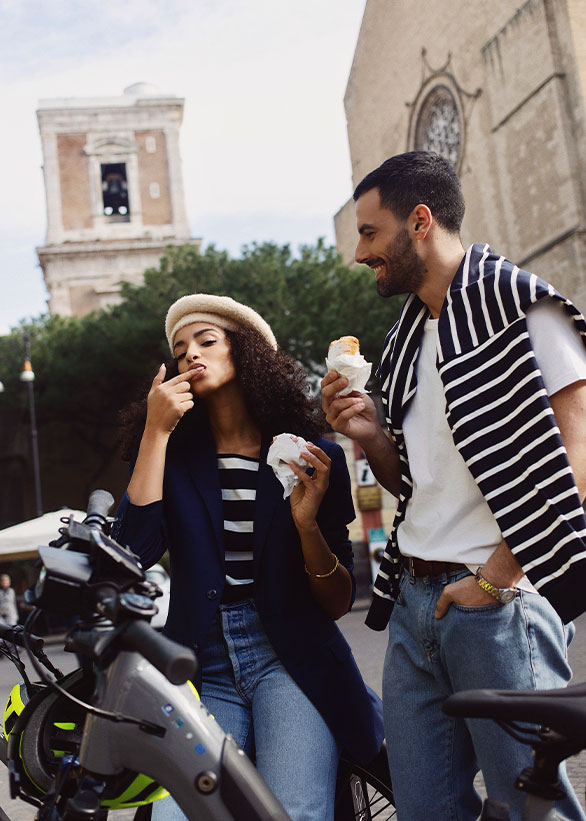 If the walk has been intense but you still have other things to see, you can enjoy the most famous street food in the world: pizza. And here in Naples you just need to take a few steps in any direction to eat one right away. Choose one of the traditional pizzerias, such as Da Michele and Starita, or let yourself be tempted by the innovative pizzerias of Palazzo Petrucci and Concettina ai tre Santi. Each of them will give you a unique experience at the first bite. And it is here that you will feel the explosion of authentic flavors that make Neapolitan pizza a gastronomic icon in the world.
But walking and wandering around the city is known to consume sugar. So, carve out some of your time in the afternoon to enjoy a sweet break at one of the historic pastry shops in Naples, such as Scaturchio or Salvatore Capparelli. If you are looking for something fresh, you can instead let yourself be tempted by a homemade ice cream at one of the many ice cream parlors in the centre, such as Mennella or Casa Infante. If, on the other hand, you fancy something to drink, enjoy an aperitif at the "little bars" in Chiaia, or at the Borgo dei Marinai in the shadow of the Castel dell'Ovo on the seafront or at Scotto Jonno's in the Galleria Principe.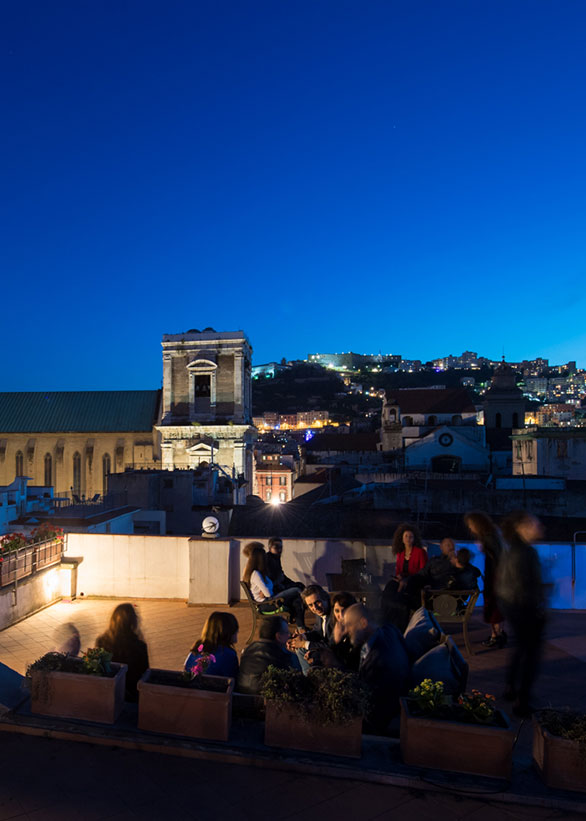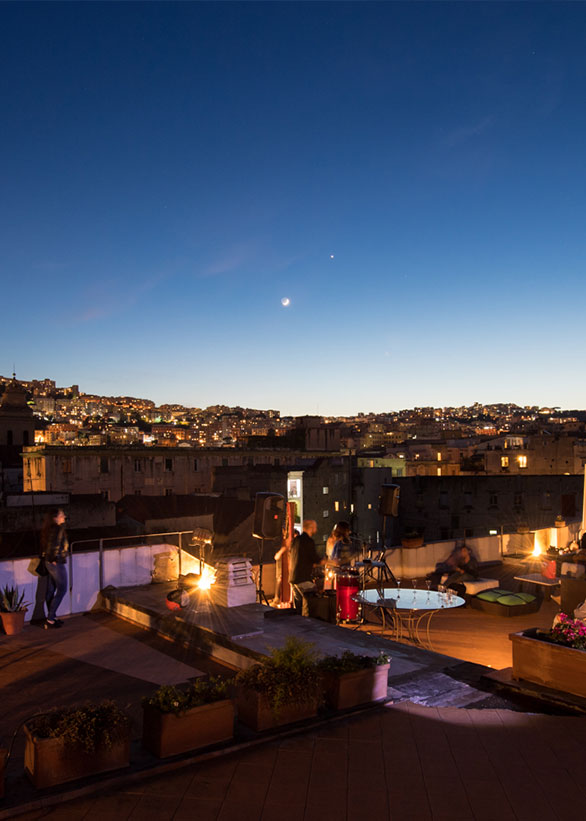 For a memorable dinner with a typically Neapolitan flavour, book a table at traditional restaurants, such as Al 53 or Osteria da Carmela. Here you can taste traditional dishes such as Genoese pasta, eggplant parmigiana or Neapolitan ragù. Wash it all down with a glass of local wine. The cozy atmosphere and authentic cuisine will make for an unforgettable evening. If you are looking for other types of cuisine, do not hesitate to ask our staff for help, we will be able to fulfill your every request.
To finish off your gastronomic tour in Naples, enjoy an evening event at the Santa Chiara Boutique Hotel. Let yourself be carried away by the lights of the city and enjoy an evening of conviviality and refinement on our panoramic terrace, sipping one of our signature cocktails or a champagne.
Live your adventure in Naples, choose the perfect room to discover the city and everything it has to offer. We will be happy to welcome you.